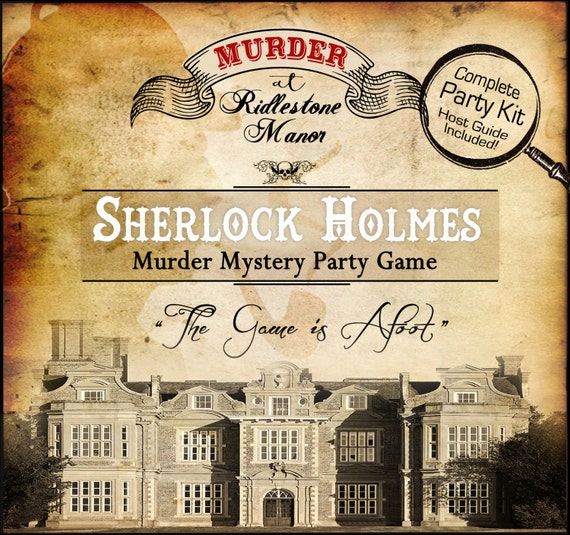 Product Info
Murder at Ridlestone Manor is a PRINTABLE Murder Mystery Party game for avid SHERLOCK HOLMES fans and mystery novices alike. The game is afoot! (*Revised Version!)
Setting: The Murder at Ridlestone Manor Mystery Dinner Party game is set in 1889 in an English countryside Estate. However, hosts may adapt the game to reflect a modern adaptation of the Sherlock Holmes stories.
Synopsis: You are cordially invited to attend Lady Murdoch's birthday celebration at the luxurious Ridlestone Manor. Tragically, Lord Charles Alfred Murdoch will not be joining the party on account of being murdered by one of the guests! Over dinner you will have opportunity to utilize your deductive powers to discover whodunit. Perhaps the murderer is YOU!
The game is broken into four 15 minute rounds presented as Acts 1-4. It is best played with 8 characters (4 men and 4 women). During each round, characters will read or ad-lib from their character booklets which reveal clues and shocking accusations!
This is a fun party game to play in anticipation of upcoming Sherlock films and episodes or for any kind of celebration! The host will set the pace of the game which can last from 1-3 hours. It is not necessary to play the game over a meal, however this is the recommended setting.
"When you have eliminated the impossible, whatever remains, however improbable, must be the truth." Sherlock Holmes
Every character is a suspect with a scandalous secret to hide!
8 PRIMARY SUSPECTS include:
Sherlock Holmes - Brilliant London-based Consulting Detective
Irene Adler - Famous Contralto and Prima donna of the London Opera House
John Watson - Gallant Victorian Gentleman and Celebrity Doctor
Mary Watson - Nurse and newly wed bride of John Watson
Hatty Murdoch - Eccentric wife of Lord Murdoch
Simon Newcombover - American lens and telescope salesman
Molly Filanders - Maid and newly recruited Suffragette
Jack Short - Charismatic plumber known for his large toolbox
(plus 9 additional observational characters)
This listing is a DIGITAL zip file and requires printing. The digital file includes:
1. Game Instructions and Hosting Guide
2. Character Profiles for 8 guests (plus 9 observational roles)
3. Party Invitations (both printable and email versions)
4. Printable Game Booklets for each guest (*plus improved printing instructions)
5. Printable Clues, Accusation Cards and Solution
6. Printable Award Certificates for Best Sleuth, Best Costume, and Best Performance
7. Dinner Party recipe and decoration ideas
Murder at Riddlestone Manor is best suited for participants over 16 years old. Although, the game is "clean" it does include references to scandal, affairs, pipe smoking, criminal behavior, innuendo and . . . MURDER. It has been played by many church and senior dinner groups with enjoyment.
Buyers may print and use this game multiple times for personal use only. Commercial use or reselling is not permitted.
*This version has been revised to include new and easier printing instructions, additional observational characters and de-typoed character booklets - all thanks to customers who have helped to improve this game!
** Making a one-for-all print template is challenging! Thanks to the insights of helpful partiers, we now include a full-page, black & white print and staple option! This is found in the 4th zip file. (Due to digital space limits, please use the booklet covers from the original booklet files!) PLEASE DO NOT CONFUSE THIS SIMPLE VERSION FOR THE FULL COLOR BOOKLET OPTION - BOTH ARE INCLUDED FOR YOUR CONVENIENCE!