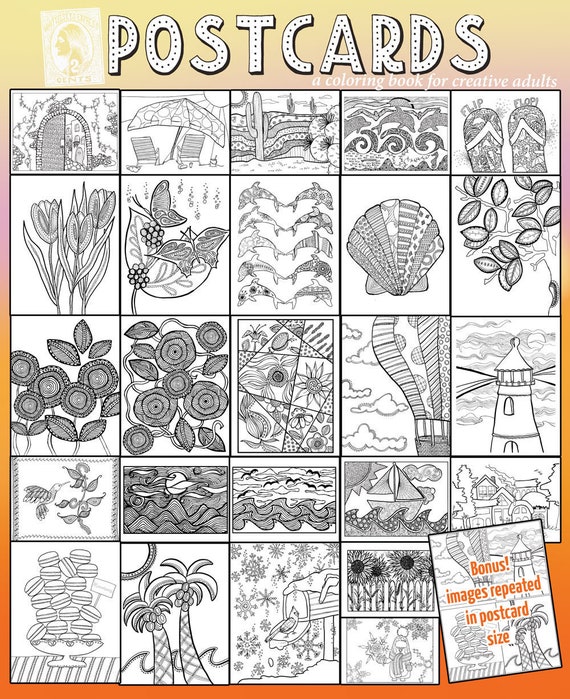 Adult Coloring Book and Postcards - 25 Scenic, world Colouring Pages: Postcards Coloring Book for adults (Printable Version)
By Moms & Crafters
Product Info
Imagine coloring on an island by yourself...
Okay, this is bascially as close as you might get but it's still cool!
Grab this gorgeous printable coloring book for adults, with bonus postcard -sized images at the end.
No, these are not exclusively color-in postcards. So what are they, then?
Postcards features 25 beautiful hand-drawn illustrations of scenes you might find on postcards, in full letter size. Since these make beautiful postcards, they are repeated in postcard size at the end of the book (print on card stock).
Scenes are reminiscent of travels and beautiful places, with a touch of fantasy thrown in.
You'll find a variety of styles in Postcards which is true to MY style of drawing. You'll find outlined drawings that invite you to add your own shading, alongside detailed doodles. You'll find simpler drawings and highly complex ones. You'll find lighthouses, hot air balloons, deserts, beaches, and macarons. And a penguin wearing a scarf, because why not?
I hope that you truly love Postcards and color every last page!!
Print pages individually, or print it back-to-back as I've left the back pages blank so that it doesn't bleed.
(Note: Postcards features three of the pages in my Sea Doodles coloring page packet found here: https://www.etsy.com/listing/461993667/adult-coloring-pages-5-printable . Please be aware that if you do purchase the Sea Doodles package in addition to this, there will only be two unique pages. If you'd like those two pages separately, let me know and I'll work out a discount for you to ensure you get your full value.)
NOW PART OF THE COLORING BUNDLE! Want the best value and loads and loads of coloring pages to print again and again? Get the big coloring bundle here: https://www.etsy.com/listing/605453660/adult-coloring-pages-over-75-complex
--> All this comes in one convenient PDF ebook (split into two files due to Etsy file size restrictions). Choose the page you want to print, or print the whole thing! This is the complete collection of all the fitting coloring pages that I've drawn on this theme. A partial collection is available in my shop, as well as individual pages that are part of other bundles in my shop.
Please note: this Postcards coloring book for adults is for personal use only. If you want to share it, you can purchase additional digital copies. All copyrights apply.
Each page is hand-drawn and then scanned and vectorized so that you get an authentic art experience, with sharp lines.
**This is an automatic digital download (fulfilled via Etsy)- you get 2 PDF files with over 25 pages**
*All files are black and white uncolored
*Does not include pens or coloring implements
*See full preview of pages included in the second image on this page
**Licensing**
This is for personal use only!
You may print out as many copies as you want for your own personal use.
You may not print it for your friends, sell it, share it, or redistribute it in any manner, or earn money off of it in any way (including selling colored work).
If you would like a commercial license to sell finished works or redistribute, please request the "customize" option and we'll discuss it further.