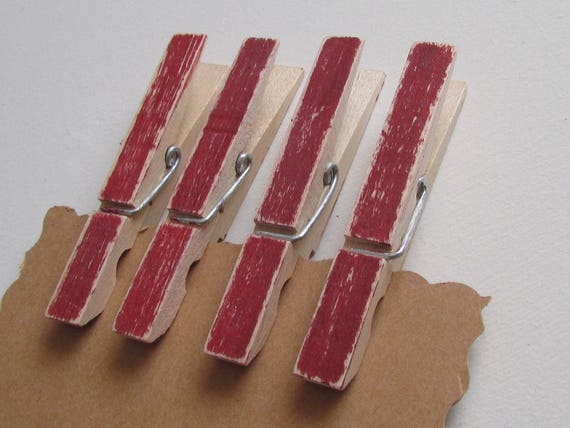 Rustic Red Clothespins Decorated Clothespins, Painted Clothespins, Distressed Clothespins, Americana Decor, Barn Red Decor Red Photo Hanger
By Samantha's Sweets
Product Info
Rustic Red Clothespins Decorated Clothespins, Painted Clothespins, Distressed Clothespins, Americana Decor, Barn Red Decor Red Photo Hanger
ORDER IN SETS OF 4!
CHOOSE WITH OR WITH OUT MAGNETS!
Distressed Red (Barn Red) Clothespins! Set of 4 hand painted & distressed wooden clothespins.
These fun rustic clothespins have so many uses!
*Hang photos.
*Hang memos.
*As chip clips
*As a decorative closer for a gift bag.
*With magnets they make a great note hanger for your refrigerator or teacher's marker board.
*They are great for photo crafts and projects.
*Use them in your home or classroom, to hang your kid's art projects on ribbon or twine.
*As a paper clip for the office, parties, or special events.
*Party décor for hanging banners, signs, etc.
*To hang Christmas cards.
*Photo displays for weddings, birthdays, and showers.
*To hang adorable little baby clothes for the cutest baby shower decor.
If you need more or would like to customize an order, just message me with ANY question, ANY TIME! I'm always here to help.
More fancy and fun clothespins in stock soon so check back!
~Samantha