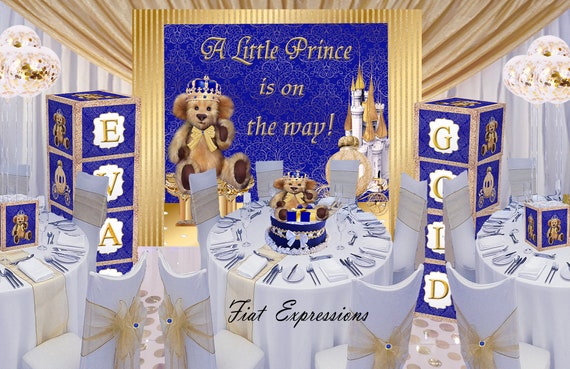 Prince Teddy Bear Royal Blue Diaper Cupcake Centerpiece, Prince Balloon Centerpieces, & Baby Shower Decorations
By Fiat Expressions
Product Info
Prince Teddy Bear Royal Blue Gold Diaper Cupcake Baby Shower Decorations Kit 3 or 5 Set
This package is perfect for a prince baby shower. Our decorations will bring a wow factor to your baby shower. Also our decorations can help decorate the baby's nursery. You may select your choice of diapers (Luvs or Pampers). There is an additional $2 fee for Pampers. This Prince Teddy Bear Baby Shower Decorations Kit comes with the following:
ONE Prince Teddy Bear Royal Blue Gold Diaper Cupcake Gift & Centerpiece - 8 x 8 x 11 inches
-12 Luvs or Pampers Diapers size 1
-1 Royal Blue Print 2 ply Flannel Burp Cloth – 9 x 18 inches
-1 Pair of White Baby Socks
-1 White Baby Washcloth
-1 Castle Cake Topper Printout for decorative use only
-1 Prince Teddy Bear for decorative use only
-Coordinating Bows, Ribbon, & Crinkle Paper
-2 or 4 Prince Teddy Bear Royal Blue Gold Baby Shower Balloon Centerpieces - 4 x 4 x 30 inches
-2 or 4 Decorated Prince Teddy Bear Boxes
-10 or 20 Gold Confetti Latex Balloon - 12 inches
-10 or 20 Balloon Sticks
-18 or 36 Luvs or Pampers Diapers size 1
**Pictures are on all 4 sides of each box.**
**You may purchase two extra balloon box centerpieces for additional price.**
ONE Digital File Prince Teddy Bear Royal Blue Gold Baby Shower Poster Backdrop - 20 x 30 inches
Not a physical product. Poster will be email to customer within 1-3 business days. Customer is responsible for printing the file. We recommend printing the file as a BOARD PRINT at a local print store.
The diaper cupcake and balloon boxes are created per order within 3-5 business days. The diaper cake will come with a gift tag. The customer is responsible for inflated the balloons and inserted the balloon onto each balloon stick. No Helium needed. Tableware is not included!
Baby Blocks are not included in this package but can be purchase for an additional $100.00 for 8 baby blocks. Please convo me for the baby blocks.