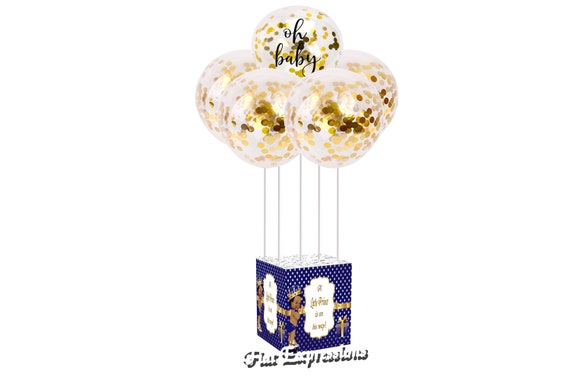 Product Info
Prince Blue Gold Baby Shower Balloon Bouquet
Our Prince balloon bouquets will elegantly decorate a Prince baby shower. Our balloon bouquets are able to stand on its own without any helium. You may pair our balloon bouquets with one of our prince diaper cakes, backdrops or edible cake image. This balloon bouquet comes with the following:
-1 Prince decorated on all four sides
-1 'Oh Baby' Gold Confetti Latex Balloons - 12 inch
-4 Gold Confetti Latex Balloons - 12 inch
-5 Balloon Poles
-NO HELIUM NEEDED
-Coordinating Crinkle Paper, Instructions, & Basic Assembly Required
-Balloon Bouquet Measurements: 6 (L) x 24 (W) x 32 (H) inches
This product is created per order within 1-3 business days.
Never allow anyone under 18 years old to assemble the balloon centerpiece/bouquet. Never insert objects into mouth, nose, eyes, ears, and/or any other body parts. Alway inflate balloons with a Balloon Air Pump.
NO REFUND FOR BABY CENTERPIECES, BALLOON CENTRPIECES, AND/OR BALLOON BOUQUETS.
The listing price is for 1 balloon centerpiece/bouquet.