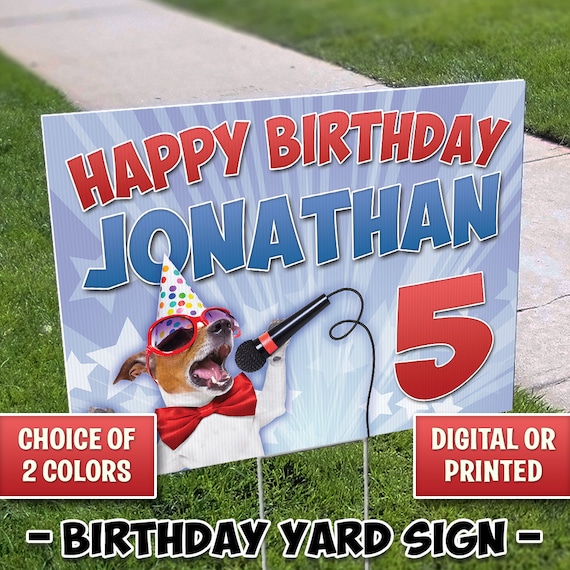 Puppy Birthday Yard Sign, Outdoor Sign, Honk Yard Sign, Happy Birthday Sign, Happy Birthday Yard Sign, Digital File or We Print & Ship 102
By Printing For Parties
Product Info
★ PLEASE NOTE ★ Due To COVID-19 - There may be delays in production and shipping. Please see the estimated delivery dates. Expedited shipping is available.
Custom Personalized Birthday Yard Sign – Add style and make your Birthday event fantastic with this amazing Personalized Birthday Yard Sign!
Choose from two sizes:
► 18 inches X 24 inches
► 24 inches X 32 inches
– See Other Matching Items: https://etsy.me/2zpD3lF
– See Other Banner & Signs: https://etsy.me/2THlBB2
★★★ PLEASE READ ALL INFORMATION BELOW BEFORE ORDERING ★★★
These Sign Designs are available as a Digital File (you print) or We Print & Ship To You (ready to display).
DIGITAL FILE ONLY INCLUDES:
– NO PRINTED MATERIALS WILL BE SHIPPED!
– Files provided in 24 x 32 size... can be used for 18 x 24 too.
– Both jpeg and PDF files to make printing a breeze for your sign shop.
– Files will be emailed to the email that you have on file with ETSY.
PRINTED SIGNS INCLUDE:
– We Print & Ship To You (ready to display).
– Personalized printed sign.
– High-quality 4mm corrugated plastic (coroplast).
– Indoor / Outdoor use.
– Free yard stake included!
– FREE STANDARD SHIPPING!!
Our signs are made from high-quality 4mm corrugated plastic and our inks are the highest quality soy-based UV resistant inks to last up to 7 years outdoors and a lifetime of indoor use. Order a Printed Sign today!
▄▄▄▄▄▄▄▄▄▄▄▄▄▄▄▄▄▄▄▄▄▄▄▄▄▄▄▄▄▄▄▄▄▄▄▄▄▄▄▄▄▄▄▄▄▄▄▄▄▄▄
▬▬▬▬ ►►► PERSONALIZATION INFO NEEDED FROM YOU ◄◄◄ ▬▬▬▬
▀▀▀▀▀▀▀▀▀▀▀▀▀▀▀▀▀▀▀▀▀▀▀▀▀▀▀▀▀▀▀▀▀▀▀▀▀▀▀▀▀▀▀▀▀▀▀▀▀▀▀
Please provide a "First Name" and a high-resolution photo for this design.
See below for details for submitting photos.
Any other personalization outside of the format of the template would be considered custom.
Need something custom or need this in a rush? Contact Us First!: https://etsy.me/2UdCL6n
▄▄▄▄▄▄▄▄▄▄▄▄▄▄▄▄▄▄▄▄▄▄▄▄▄▄▄▄▄▄▄▄▄▄▄▄▄▄▄▄▄▄▄▄▄▄▄▄▄▄▄
▬▬▬▬▬▬▬▬▬▬ ►►► PHOTO SUBMISSION ◄◄◄ ▬▬▬▬▬▬▬▬▬
▀▀▀▀▀▀▀▀▀▀▀▀▀▀▀▀▀▀▀▀▀▀▀▀▀▀▀▀▀▀▀▀▀▀▀▀▀▀▀▀▀▀▀▀▀▀▀▀▀▀▀
Please send photos via ETSY's Messaging System
We require a high–resolution good quality photo. The person should be alone in the photo with no other people. Your photo should be no less than 300 DPI and clear and ready to print. Your photo will be used as supplied. Some cropping may occur to fill the allocated space.
If your photo requires any retouching or you ask us to do something to the photo you supplied... that will be additional, and not included in this offer.
▄▄▄▄▄▄▄▄▄▄▄▄▄▄▄▄▄▄▄▄▄▄▄▄▄▄▄▄▄▄▄▄▄▄▄▄▄▄▄▄▄▄▄▄▄▄▄▄▄▄▄
▬▬▬▬▬▬▬▬▬▬ ►►► PROCESSING TIME ◄◄◄ ▬▬▬▬▬▬▬▬▬▬
▀▀▀▀▀▀▀▀▀▀▀▀▀▀▀▀▀▀▀▀▀▀▀▀▀▀▀▀▀▀▀▀▀▀▀▀▀▀▀▀▀▀▀▀▀▀▀▀▀▀▀
FAST ORDER PROCESSING:
Digital Orders – Processed within 1–2 Business Days.
Printed Orders – Processed, printed and shipped within 5–7 Business Days.
★ BUSINESS DAYS DO NOT INCLUDE WEEKENDS OR HOLIDAYS!
★ ALSO DOES NOT INCLUDE SHIPPING TRANSIT TIMES
★★ Need the item by a certain date? Contact us prior to ordering.
https://etsy.me/2UdCL6n
▬▬▬▬▬▬▬▬▬▬▬▬▬▬▬▬▬▬▬▬▬▬▬▬▬▬▬▬▬▬▬▬▬▬
HAVE ANY QUESTIONS? NEED SOMETHING CUSTOM?
Contact us for prompt assistance: https://etsy.me/2UdCL6n
▬▬▬▬▬▬▬▬▬▬▬▬▬▬▬▬▬▬▬▬▬▬▬▬▬▬▬▬▬▬▬▬▬▬
©2020 Printing For Parties -- www.PrintingForParties.com
All rights reserved