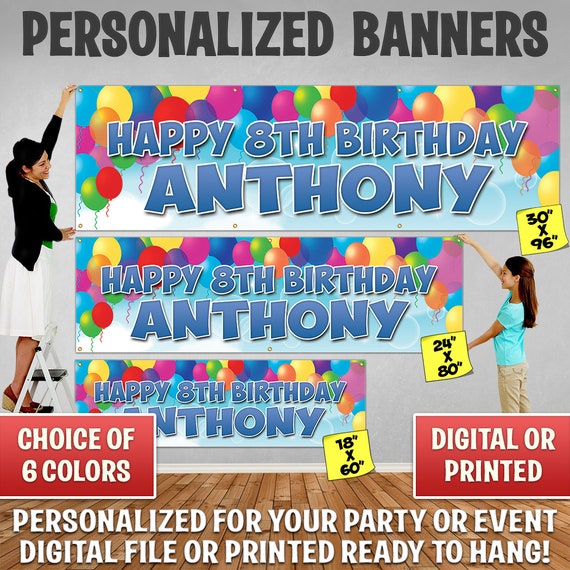 Custom Personalized Balloons Birthday Banner Decoration, Custom Banner, Personalized Banner, Balloons, Birthday Backdrop Decoration 030
By Printing For Parties
Product Info
★ PLEASE NOTE ★ Due To COVID-19 - There are some delays in production and shipping. Please pay close attention to the estimated delivery dates. Expedited shipping is available.
Custom Personalized Birthday Banner Decoration – Add style and make your Birthday event fantastic with this amazing Personalized Birthday Banner!
Choose from three sizes:
► 18 inches X 60 inches
► 24 inches X 80 inches
► 30 inches X 96 inches
– Other Birthday Banner designs: https://etsy.me/2THlBB2
★★★ PLEASE READ ALL INFORMATION BELOW BEFORE ORDERING ★★★
This banner is available as a Digital File or Printed & Ready To Hang!!
DIGITAL FILE ONLY INCLUDES:
– NO PRINTED MATERIALS WILL BE SHIPPED!
– Both jpeg and PDF files to make printing a breeze for your sign shop.
PRINTED BANNERS INCLUDE:
– Printed Banner
– Optional Grommets
– Printed on high-quality 13oz. indoor/outdoor scrim-reinforced vinyl
– Fits standard 1.55oz Hershey's chocolate bars
– FREE STANDARD SHIPPING
Our banners are made from heavy-duty reinforced 13oz. indoor/outdoor scrim-reinforced vinyl and our inks are the highest quality soy-based UV resistant inks to last up to 7 years outdoors and a lifetime of indoor use. Order a Printed Banner today!
▄▄▄▄▄▄▄▄▄▄▄▄▄▄▄▄▄▄▄▄▄▄▄▄▄▄▄▄▄▄▄▄▄▄▄▄▄▄▄▄▄▄▄▄▄▄▄▄▄▄▄
▬▬▬▬ ►►► PERSONALIZATION INFO NEEDED FROM YOU ◄◄◄ ▬▬▬▬
▀▀▀▀▀▀▀▀▀▀▀▀▀▀▀▀▀▀▀▀▀▀▀▀▀▀▀▀▀▀▀▀▀▀▀▀▀▀▀▀▀▀▀▀▀▀▀▀▀▀▀
Include your personalized information in the 'Add your personalization" section above or in the 'Note' section at checkout.
– First Line of Text
– Name
– Text Color
▄▄▄▄▄▄▄▄▄▄▄▄▄▄▄▄▄▄▄▄▄▄▄▄▄▄▄▄▄▄▄▄▄▄▄▄▄▄▄▄▄▄▄▄▄▄▄▄▄▄▄
▬▬▬▬▬▬▬▬▬▬ ►►► PROCESSING TIME ◄◄◄ ▬▬▬▬▬▬▬▬▬▬
▀▀▀▀▀▀▀▀▀▀▀▀▀▀▀▀▀▀▀▀▀▀▀▀▀▀▀▀▀▀▀▀▀▀▀▀▀▀▀▀▀▀▀▀▀▀▀▀▀▀▀
FAST ORDER PROCESSING:
Digital Orders – Processed within 1–2 business days.
Printed Orders – Processed within 5–7 business days.
BUSINESS DAYS DO NOT INCLUDE WEEKENDS OR HOLIDAYS!
▬▬▬▬▬▬▬▬▬▬▬▬▬▬▬▬▬▬▬▬▬▬▬▬▬▬▬▬▬▬▬▬▬▬
HAVE ANY QUESTIONS? NEED SOMETHING CUSTOM?
Contact us for prompt assistance: https://etsy.me/2UdCL6n
▬▬▬▬▬▬▬▬▬▬▬▬▬▬▬▬▬▬▬▬▬▬▬▬▬▬▬▬▬▬▬▬▬▬
©2019 Printing For Parties -- www.PrintingForParties.com
All rights reserved