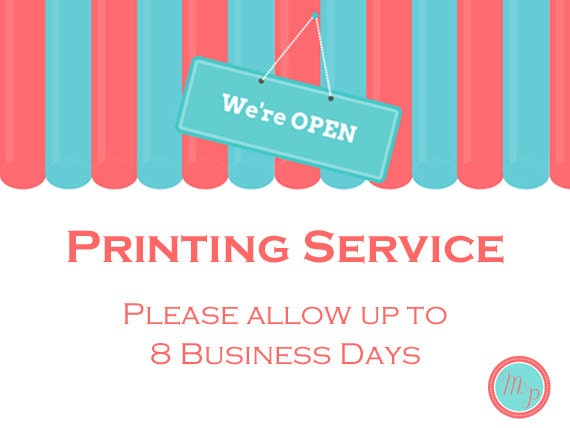 PRINTING SERVICE - Single Side Printing - Cardstock Printed ( Bs46 Bs138 bs472 bs10 TLC146 TLc140 sn34 tlc108 bs149 BP138 bp46)
By Baby Shower Ideas 4U
Product Info
We currently offer printing service to USA only, except AK, HI
PLEASE ALLOW 9 BUSINESS DAYS to receive your item. The 9 business days includes printing days as well as transit days.
10 prints will give you only 10 copies in total. Example: If you would like to 10 copies each of 2 games, please purchase 20 prints in total. (10 copies x 2 games)
Please contact us to receive a discount on printing Game Packages. Packages include 6 Games.
Color Printing Service for your games, invitations or signs, etc - One Sided Printing only
This is an add-on service, so please ensure to have this Printing Listing along with the actual digital product (for example game, sign or invitation) you are after in your cart.
**Your item will be printed according to the size specified in the listing you are wanting printed**
Games will be printed 5x7" or 4x6"
Small Guessing Cards will be printed 2x3.5" or 3.5x5"
Signs will be printed 8x10" unless if you are ordering a poster size from the dropdown list.
LOOKING FOR DOUBLE-SIDED PRINTING? WITH ENVELOPES?
go to> https://www.etsy.com/listing/672012697/printing-service-free-shipping-includes
We offer only the following sizes for printing at the moment:
4x6"
5x7"
8x10"
8.5x11"
11x17"
18x24"
24x36"
2x3.5" (small cards used for small insert or guessing cards - size is like a business card)
4x3" (eg. Foldable labels, you will receive them as flat card that is 4x6", so you would need to fold them still)
Please select the correct quantity. Quantity should be total number of prints you need. If you have a few designs you need to be printed, please specify the number of prints you require for each design. You can specify this at checkout, the seller's note section.
For other sizes not specified above, please contact me.
Envelopes are NOT included
We offer printing of templates that are not from our shop also, but the minimum print order requirement is 50 prints in total. No maximum. We will send you an email address so you can send the file to us. File would need to be high-resolution 300dpi in the correct printing size. We do not offer modification of the size of your file.
If you are after printing of toppers, tent labels, etc unfortunately we do not offer the trimming service, but we can still print them on 8.5x11" paper, but you would still be required to do the cutting to size at home. For small cards we have option to print them on business card sizes which is 2x3.5"
_____________________________________________
WHEN WILL I RECEIVE MY PRODUCT?
_____________________________________________
Printing is done within 48 Hours, plus the UPS GROUND SHIPPING time of up to 6 days. (Days depend on your location in USA)
So please allow at least 8 business days to receive your product.
This does not include days that we spend on clarifying the items or customizing the item to be printed, example if your order is not clear with what requires printing, i will contact you and once confirmed, the file will be sent to printing. This applies to custom listing, if your purchased an item that requires changes of text etc, we will only send your file for printing, once the changes are approved.
_________________________________________________
WHAT KIND OF PAPER DOES IT PRINT ON?
_________________________________________________
We print on smooth bright white cardstock paper 70lb/105 gsm
Printing on thicker cardstock is available at extra cost, please contact me about this option.
more are available at request, please contact me about other paper types.
By default, your product is printed on the matte paper unless specified. Please leave a note at checkout if you would prefer the glossy paper. No extra cost for this option.
We can also print on standard papers for half the cost, please contact me to get a quote.
We use a selected printer company that offers high quality press printing.
***To avoid delays, please ensure you are adding the design you are wanting printed to cart at well.