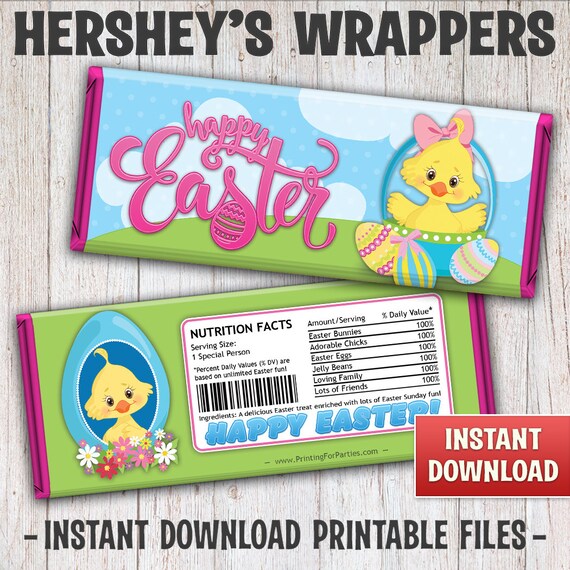 Printable Easter Chick Candy Bar Wrappers, Easter Chick Hershey Bar Wrappers, Easter Chick, Instant Download Printable Candy Wrappers - 025
By Printing For Parties
Product Info
Easter Hershey's Bar Wrappers – Make your holiday something special with these amazing custom Hershey's candy bar wrappers! Available as an Instant Download. Need them printed? Contact us!
– Other Easter Hershey Wrappers found here: http://etsy.me/3a2LWRD
– Need Foil Sheets? Order them here: https://etsy.me/2CcbOZQ
★★★ PLEASE READ ALL INFORMATION BELOW BEFORE ORDERING ★★★
These wrappers are available as an instant download.
INSTANT DOWNLOAD INCLUDES:
– NO PRINTED MATERIALS WILL BE SHIPPED!
– Both jpeg and PDF files to make printing a breeze
– Easy to follow instructions
– A copyright release for the design is not included
CAN NOT BE RESOLD!!
▄▄▄▄▄▄▄▄▄▄▄▄▄▄▄▄▄▄▄▄▄▄▄▄▄▄▄▄▄▄▄▄▄▄▄▄▄▄▄▄▄▄▄▄▄▄▄▄▄▄▄
▬▬▬▬▬▬▬▬▬▬▬ ►►► REFUND POLICY ◄◄◄ ▬▬▬▬▬▬▬▬▬▬
▀▀▀▀▀▀▀▀▀▀▀▀▀▀▀▀▀▀▀▀▀▀▀▀▀▀▀▀▀▀▀▀▀▀▀▀▀▀▀▀▀▀▀▀▀▀▀▀▀▀▀
THERE ARE NO REFUNDS ON INSTANT DOWNLOAD DIGITAL FILES.
If there is a typo in the design... contact us and we will be happy to correct the error and re-create the digital files for you and send them to you. But under no circumstances will we offer a refund for Instant Downloadable Digital Files.
If you don't agree to this policy... please do NOT order this item.
▄▄▄▄▄▄▄▄▄▄▄▄▄▄▄▄▄▄▄▄▄▄▄▄▄▄▄▄▄▄▄▄▄▄▄▄▄▄▄▄▄▄▄▄▄▄▄▄▄▄▄
▬▬▬▬▬▬▬▬▬▬▬ ►►► THE FINE PRINT ◄◄◄ ▬▬▬▬▬▬▬▬▬▬▬
▀▀▀▀▀▀▀▀▀▀▀▀▀▀▀▀▀▀▀▀▀▀▀▀▀▀▀▀▀▀▀▀▀▀▀▀▀▀▀▀▀▀▀▀▀▀▀▀▀▀▀
Please note all items are for PERSONAL USE ONLY. File sharing, distributing or selling the designs, or ANY elements within them, in any other format, any products or in any other media is strictly prohibited. When purchasing a product you agree to use the designs for personal use only. Commercial use or reselling our design in any format is not allowed as per 17 U.S.C. 106(3), 17 U.S.C. §109(c).
▬▬▬▬▬▬▬▬▬▬▬▬▬▬▬▬▬▬▬▬▬▬▬▬▬▬▬▬▬▬▬▬▬▬
HAVE ANY QUESTIONS? NEED SOMETHING CUSTOM?
Contact us for prompt assistance: https://etsy.me/2UdCL6n
▬▬▬▬▬▬▬▬▬▬▬▬▬▬▬▬▬▬▬▬▬▬▬▬▬▬▬▬▬▬▬▬▬▬
©2021 Printing For Parties -- www.PrintingForParties.com
All rights reserved.