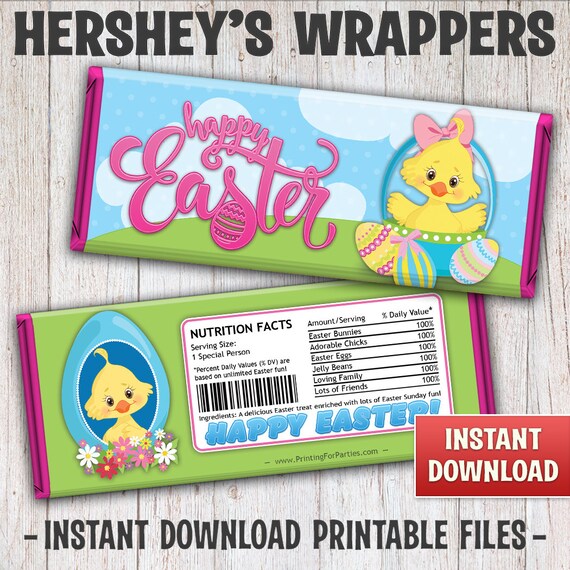 Printable Easter Chick Candy Bar Wrappers, Easter Chick Hershey Bar Wrappers, Easter Chick, Instant Download Printable Candy Wrappers - 025
By Printing For Parties
Product Info
★★★ PLEASE NOTE ★★★ Due To COVID-19 - Please contact us PRIOR to placing an order with the date you need this item in hand to make sure we can accommodate you.
Instant Download Easter Themed Candy Bar Wrapper – Add style and make your St. Patrick's Day fantastic with these amazing personalized candy bar wrappers! Available as a Digital File, Printed Wrappers or Pre-Wrapped Hershey Bars.
– Want us to print them? Contact us here: https://etsy.me/2UdCL6n
– Need Foil Sheets? Order them here: https://etsy.me/2CcbOZQ
– Other 'Easter' themed items and designs: https://etsy.me/2EUvlzM
★★★ PLEASE READ ALL INFORMATION BELOW BEFORE ORDERING ★★★
NO PRINTED MATERIALS WILL BE SHIPPED! – Your purchase is for Instant Downloadable Files which you can print out and print as many wrappers as you need. You will be given both JPG and PDF versions to make printing easy for you.
INSTANT DOWNLOAD DIGITAL FILE ONLY INCLUDES:
– NO PRINTED MATERIALS WILL BE SHIPPED!
– Both jpeg and PDF files to make printing a breeze.
– Easy to follow instructions
WE ALSO OFFER PRINTED WRAPPERS AND PRE-WRAPPED HERSHEY BARS!
Contact us for more details and we will create a listing for you.
Contact us here: https://etsy.me/2UdCL6n
▄▄▄▄▄▄▄▄▄▄▄▄▄▄▄▄▄▄▄▄▄▄▄▄▄▄▄▄▄▄▄▄▄▄▄▄▄▄▄▄▄▄▄▄▄▄▄▄▄▄▄
▬▬▬▬▬▬▬▬▬ ►►► TRY BEFORE YOU BUY ◄◄◄ ▬▬▬▬▬▬▬▬▬
▀▀▀▀▀▀▀▀▀▀▀▀▀▀▀▀▀▀▀▀▀▀▀▀▀▀▀▀▀▀▀▀▀▀▀▀▀▀▀▀▀▀▀▀▀▀▀▀▀▀▀
We are happy to provide you with a sample Digital File to print out and test your printer or capability of printing a digital file. Simply contact us here on Etsy and ask for sample for a full size candy bar wrapper digital file. We will reply with a sample zip file which will contain a JPG, PDF and instruction sheet for you to try.
▄▄▄▄▄▄▄▄▄▄▄▄▄▄▄▄▄▄▄▄▄▄▄▄▄▄▄▄▄▄▄▄▄▄▄▄▄▄▄▄▄▄▄▄▄▄▄▄▄▄▄
▬▬▬▬▬▬▬▬ ►►► PRINTING FROM HOME ◄◄◄ ▬▬▬▬▬▬▬▬
▀▀▀▀▀▀▀▀▀▀▀▀▀▀▀▀▀▀▀▀▀▀▀▀▀▀▀▀▀▀▀▀▀▀▀▀▀▀▀▀▀▀▀▀▀▀▀▀▀▀▀
► MATERIALS YOU WILL NEED IF PRINTING FROM HOME
– A Color Printer
– Scissors, paper cutter or paper trimmer
– Glue Stick, Double-stick tape or glue tape.
– You can use regular copy paper or glossy paper. We'd suggest printing on a brochure type of paper for inkjet printers. Here's a good product on Amazon: http://amzn.to/1TFsJpj
► COLOR VARIATIONS
Colors may vary from one computer monitor to another, quality of printer used as well as the many different types or brands of paper and ink you're printing with. The Printing For Parties shop is not responsible for the resulting color variations due to the many variables involved. If you want the wrappers to look exactly as shown, simply have us print them for you.
▬▬▬▬▬▬▬▬▬▬▬▬▬▬▬▬▬▬▬▬▬▬▬▬▬▬▬▬▬▬▬▬▬▬
HAVE ANY QUESTIONS? NEED SOMETHING CUSTOM?
Contact us for prompt assistance.
▬▬▬▬▬▬▬▬▬▬▬▬▬▬▬▬▬▬▬▬▬▬▬▬▬▬▬▬▬▬▬▬▬▬
©2019 Printing For Parties -- www.PrintingForParties.com
All rights reserved.