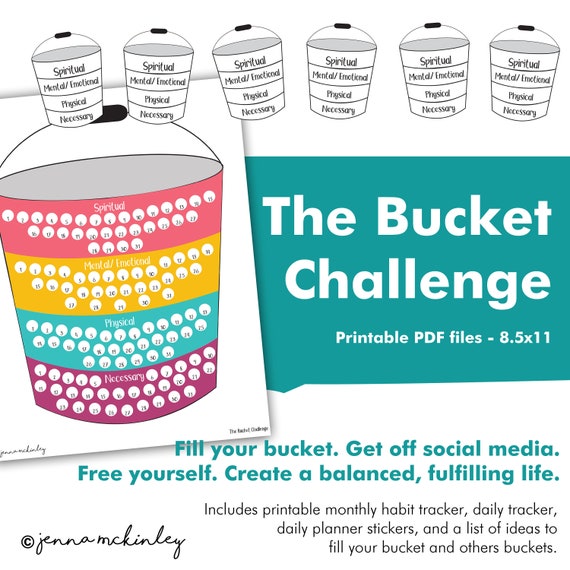 PRINTABLE Bucket Challenge - Self Care Instant Download Habit Tracker and Planner Stickers - 8.5x11 - Fill Your Bucket - Motivation
By Jenna Mckinley
Product Info
BREAKING NEWS: You can enjoy your life without sharing it on social media. Take the Bucket Challenge. Put down the phone. Live your life for yourself and not through a 4" screen. Create a balanced, fulfilling life.
P.S. You don't have to buy this product. You can draw a bucket on a piece of paper if you want, I am just providing this to you as an easy way to track and view your progress. If this product works for you, I am glad I can help you live a more productive life. If not, do what works for you!
How the bucket challenge works:
Complete tasks in all 4 areas each day. The 4 areas are the necessary, the physical, the mental/emotional, and the spiritual.
Try to avoid the use of technology and especially social media as you complete each catergory. Here's a breakdown of the 4 life categories:
- The Necessary - Things you have to do such as going to work or school and chores.
- Physical - Taking care of your body and things that make you feel good physically like getting dressed in something that makes you feel good, working out, or getting a hug
- Mental/ Emotional - Things that you enjoy doing that give you a sense of accomplishment and help you feel better mentally and emotionally such as a hobby, traveling, learning something new, or talking with a friend.
- Spiritual - If you are not religious, this could be finding a quiet place to think and connect with yourself, writing in a journal, or listening to an inspiring speech. If you are religious, this could listening to hymns, praying, or studying the Bible.
More ideas for each category on the included printables.
Once you have done things from each category, and your bucket is filled, go help to fill another person's bucket. Your children, family, friends, neighbors, co-workers, strangers, anyone!
***INSTANT DOWNLOAD***
This listing includes 4 digital download PDF files- A daily tracker, monthly tracker, planner stickers, and list of bucket filling ideas (pictured in pics 2-3). Download whichever format works best for you.
-You won't be sent any physical product.
-No shipping fees!
-Just click on the link to download your printable file after purchase is complete and print immediately.
***TERMS AND CONDITIONS***
-USAGE: feel free to share your printables with friends, family, or anyone you want, but please do not resell them. These are for personal use, not for resale.
-As the designer, I retain copyrights for this design.
-Due to variations in computer monitors and printers, the colors shown on your screen may vary slightly from the final product.
-No refunds are offered on this product because of its downloadable nature.
If you have questions please contact me at jennamckinleystore[at]gmail.com
Thank You for shopping Jenna Mckinley and supporting small businesses!
-Katherine
Owner, Jenna Mckinley
©Jenna Mckinley