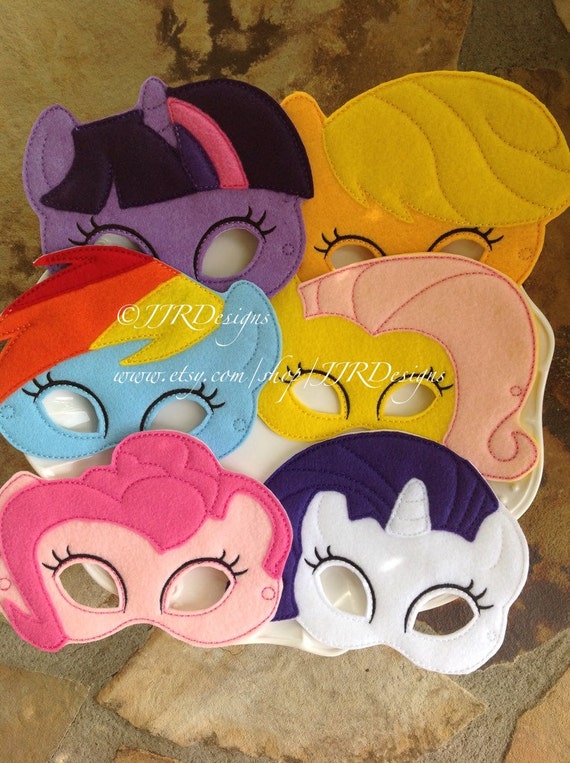 Pony Inspired Felties- Pony Masks-Dress up Mask- Sweetie Belle- Rainbow Dash- Pinkie Pie
By JJRDesigns
Product Info
AVAILABLE:
RARE is Approx. 6" x 5.5"-
FLUTTER is Approx. 6" x 5"-
APPLE is Approx. 6" x 5"-
DR. HVES- 2 available.
Pinkie is Approx. 6" x 5"
NEW!!!!! Sweetie Belle is Aprox. 6" x 5" White Pink and Purple
These are high quality dress up/play masks! I have many styles available, rainbow, twilight, rarity, apple jack, pinkie, dr hooves, moonshine and spike special order. They are about 5-6" wide and 5-6" tall but they all vary in size!
These masks are intended for Children Only. Some masks MIGHT fit adults, but before purchasing for adults, please convo me for dimensions.
Rainbow is Approx. 6" x 5
Twilight is Approx. 6" x 5"
Each mask come with MATCHING COLORS skinny elastic and you can adjust if needed! I will tie it once, and if it's a good size you can tie one more knot to ensure it stays in place, or adjust it as needed then double knot it!
Buy multiples and save $3+ on shipping!