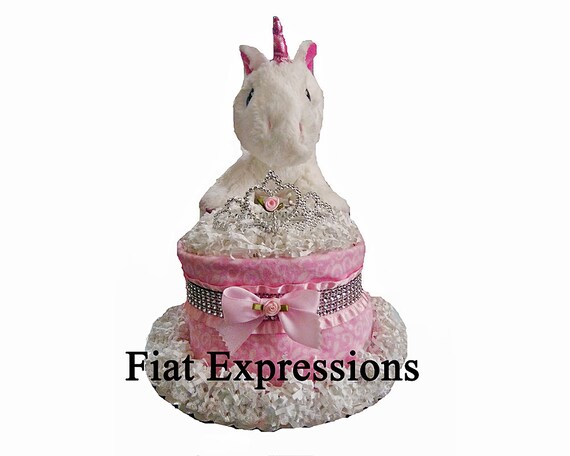 Princess Unicorn Mini Diaper Cake, Pink Mini Diaper Cake, Unicorn Baby Shower, Princess Baby Shower, Pink Baby Shower, Girl Diaper Cake
By Fiat Expressions
Product Info
Princess Swirl Unicorn Mini Diaper Cake
This product can be used as a gift & centerpiece at baby shower. You may select your choice of diapers (Luvs or Pampers). There is an additional $2 fee for Pampers. This mini diaper cake comes with the following:
-12 Luvs or Pampers Diapers size 1
-1 Pink 2 ply Flannel Burp Cloth (9 x 18 inches)
-1 Plush Baby Safe Unicorn (8 inches)
-1 Pair of Baby Socks
-1 Baby Washcloth
-1 Silver Tiara Cake Topper for decorative use only
-Coordinating Bows, Ribbon, & Crinkle Paper
This diaper cake comes with 16 items. This product sits on a 8 inch scalloped edge cake plate. We will ship your product within 3-5 business days. The measurements of the cake is 8 x 8 x 8 inches. The diaper cake will come package with cellophane wrap with a bow & a gift tag attached to it.