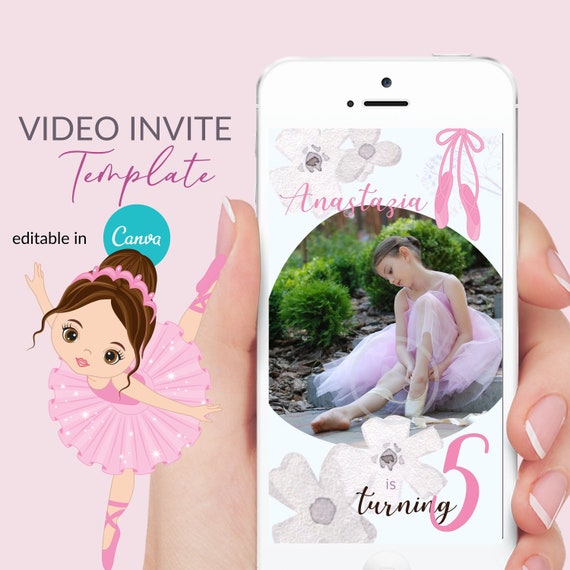 Pink Ballerina Video invite, Brunette ballerina, Editable Digital invitation, Ballet Canva template, Girl Birthday VOL0021
By MudbootsDesign
Product Info
Pink Ballet invite, brunette ballerina Video, Editable Digital invitation, Canva template, Girl Birthday VOL0021
photo video invite, ballet mobile invite, pink ballerina, ballet video invite, ballet birthday party theme,
This is a Canva template. You will not receive any physical product.
Don't worry Canva is easy to use and absolutely free.
What you Get
Once you purchased the template you will be able to download a PDF document. In the PDF document, there is a link that takes you to Canva, where you can personalize your invitation template.
See the full video with sound here
How to
Customization is easy. You can change the Text wording, font, and color.
The only thing that you can NOT change is the graphics' colors.
My designs do not include Canva PRO extra's if you do get charged extra for use of a PRO feature please let me know as soon as possible.
How do I send my invite to friends?
Once you are done customizing your canva template you can DOWNLOAD it as an mp4.
The Best way to send this video invitation is through Email, Facebook Messenger, iMessage, Whatsapp, Viber, or basically any messaging app supported by an internet connection. I don't recommend sending it as a Text Message as most carriers have very small file size limit or data capabilities so it decreases the quality of the video making it blurry and unreadable. Another option if you want to send it as a text message is to upload your video invitation to your Google Drive and just copy and text the link that will direct them to the video.
"Artwork by https://www.etsy.com/shop/TheCreativeMill"