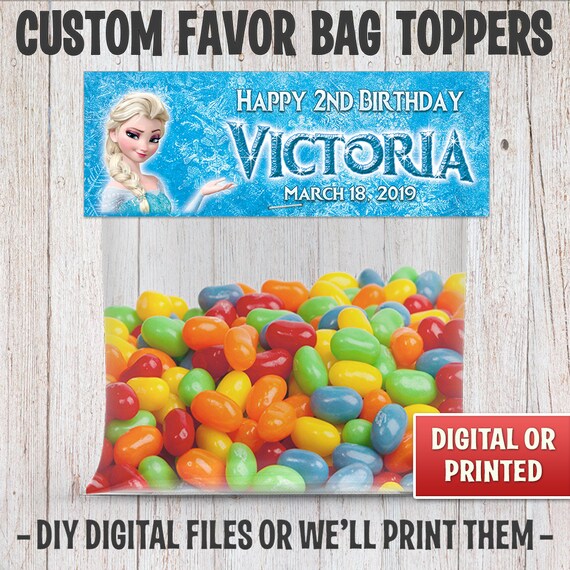 Personalized Elsa Frozen Favor Party Bag Toppers For Birthday Parties, Frozen Birthday Party Favor Bag Toppers, Digital File or Printed 052
By Printing For Parties
Product Info
★★★ PLEASE NOTE ★★★ Due To COVID-19 - Please contact us PRIOR to placing an order with the date you need this item in hand to make sure we can accommodate you.
Personalized Elsa Frozen Favor Party Bag Toppers For Birthday Parties – Add style and make your Party Bag Favors fantastic with these amazing personalized Toppers!
– Other matching items found here: https://etsy.me/2UcrB0U
– Other 'Frozen' themed items and designs: https://etsy.me/2GgSMEl
★★★ PLEASE READ ALL INFORMATION BELOW BEFORE ORDERING ★★★
These Toppers are available as a Digital File or Printed.
Printed Toppers are sold in packs of 12, 24 or 36 and come with or without bags.
Need a different quantity? Let us know and we will create a custom listing for you.
DIGITAL FILE ONLY INCLUDES:
– NO PRINTED MATERIALS WILL BE SHIPPED!
– Both jpeg and PDF files to make printing a breeze
– Easy to follow instructions
– A copyright release for the design is not included
PRINTED TOPPERS ORDERS INCLUDE:
– 12, 24 or 36 Printed bag toppers
– Printed on high-quality gloss card stock
– Perfect for standard 6" - 6.5" sandwich bags
– 6" X 8" Zip-Lock bags are available to add to order
– FREE STANDARD SHIPPING
▄▄▄▄▄▄▄▄▄▄▄▄▄▄▄▄▄▄▄▄▄▄▄▄▄▄▄▄▄▄▄▄▄▄▄▄▄▄▄▄▄▄▄▄▄▄▄▄▄▄▄
▬▬▬▬ ►►► PERSONALIZATION INFO NEEDED FROM YOU ◄◄◄ ▬▬▬▬
▀▀▀▀▀▀▀▀▀▀▀▀▀▀▀▀▀▀▀▀▀▀▀▀▀▀▀▀▀▀▀▀▀▀▀▀▀▀▀▀▀▀▀▀▀▀▀▀▀▀▀
Include your personalized information in the 'Add your personalization' section above or in the 'Note' section at checkout.
Topper Front:
– Name(s)
– Age
– Date
▄▄▄▄▄▄▄▄▄▄▄▄▄▄▄▄▄▄▄▄▄▄▄▄▄▄▄▄▄▄▄▄▄▄▄▄▄▄▄▄▄▄▄▄▄▄▄▄▄▄▄
▬▬▬▬▬▬▬▬▬▬ ►►► PROCESSING TIME ◄◄◄ ▬▬▬▬▬▬▬▬▬▬
▀▀▀▀▀▀▀▀▀▀▀▀▀▀▀▀▀▀▀▀▀▀▀▀▀▀▀▀▀▀▀▀▀▀▀▀▀▀▀▀▀▀▀▀▀▀▀▀▀▀▀
FAST ORDER PROCESSING:
Digital Orders – Processed & Delivered within 24-48 hrs.
Printed Orders – Processed & Shipped within 3-5 business days
▄▄▄▄▄▄▄▄▄▄▄▄▄▄▄▄▄▄▄▄▄▄▄▄▄▄▄▄▄▄▄▄▄▄▄▄▄▄▄▄▄▄▄▄▄▄▄▄▄▄▄
▬▬▬▬▬▬▬▬▬▬▬ ►►► THE FINE PRINT ◄◄◄ ▬▬▬▬▬▬▬▬▬▬▬
▀▀▀▀▀▀▀▀▀▀▀▀▀▀▀▀▀▀▀▀▀▀▀▀▀▀▀▀▀▀▀▀▀▀▀▀▀▀▀▀▀▀▀▀▀▀▀▀▀▀▀
Please note all items are for PERSONAL USE ONLY. File sharing, distributing or selling the designs, or ANY elements within them, in any other format, any products or in any other media is strictly prohibited. When purchasing a product you agree to use the designs for personal use only. Commercial use is not allowed as per 17 U.S.C. 106(3), 17 U.S.C. §109(c).
► IMAGES AND DESIGNS
Printing For Parties does not claim any ownership over the characters and/or graphics used in the personalized item. These items are not licensed products and all images of characters used in the designs are free and not being sold. The characters used in your customized item solely belongs to their respective copyright holders and is in no way sponsored, authorized, or endorsed by the copyright owner. A copyright release for the design is not included. If you intend to print at a printing lab be sure to check with them to ensure they can print for you. Digitally reproduced or interpreted licensed characters cannot be shared, distributed or sold and limited rights are not transferable to anyone for any reason.
All other elements were created by The Printing For Parties Shop and are protected under domestic and international copyright laws (again, aside from licensed character images or trademarks) according to 17 U.S.C. Section 501. Any licensed images of characters used in the designs are free and not being sold. Character copyright is held by the original owner. Designs are intended for ONE TIME PERSONAL use only.
Your purchase is for the labor and time involved in creating the Digital File and or the cost of material and supplies for printing out the wrappers for you.
▬▬▬▬▬▬▬▬▬▬▬▬▬▬▬▬▬▬▬▬▬▬▬▬▬▬▬▬▬▬▬▬▬▬
HAVE ANY QUESTIONS? NEED SOMETHING CUSTOM?
Contact us for prompt assistance: https://etsy.me/2UdCL6n
▬▬▬▬▬▬▬▬▬▬▬▬▬▬▬▬▬▬▬▬▬▬▬▬▬▬▬▬▬▬▬▬▬▬
©2019 Printing For Parties -- www.PrintingForParties.com
All rights reserved