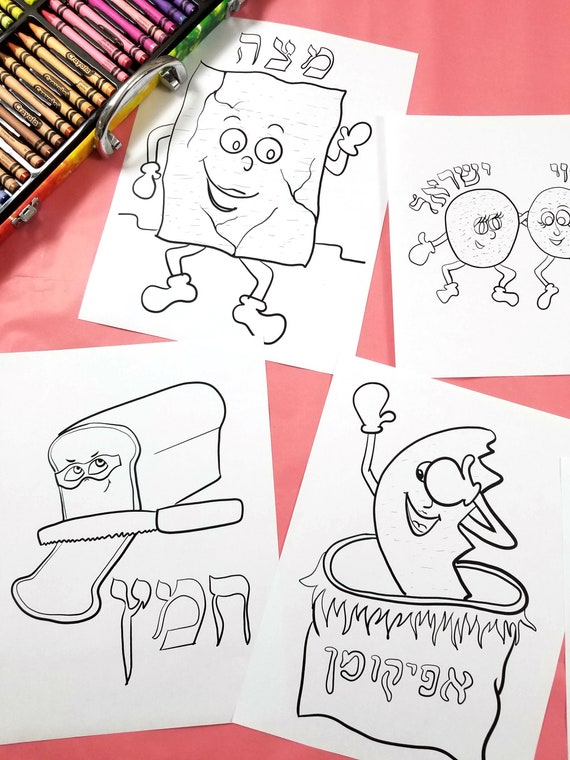 9 Passover Coloring Pages for Kids - Printable PDF Colouring Pages for Pesach - Passover Jewish Activities for Preschool
By Moms & Crafters
Product Info
Occupy the kids while you clean and cook with this fun packet of NINE Passover coloring pages by me. Or teach all about the Jewish holidays and traditions.
I illustrated these Pesach coloring pages activities in a style that kids will enjoy - it's fun, quirky, and humorous.
***IMPORTANT: This is a printable coloring page activity - you get one nine-page PDF file to print out on paper! Color and entertain the little ones. Does not include paper, crayons, or anything physical. You get an automatic digital download of this Passover activity.***
***Coloring pages included:***
-->Humpty-Dumpty-style matzah with cracks sitting on a wall, waving "hi"
-->The three matzahs that go under the seder plate, representing the three branches of Jews: Kohen, Levite, and Israel, link arms to show unity.
-->A sneaky loaf of bread dressed like a bandit. The hebrew word says "chametz" - or leavened.
-->A hiding half-matzah for the afikoman, popping out of its bag
-->Elijah's Cup (kos shel eliyahu)
-->A compilation drawing of seder traditions
-->A young child asking the four questions (mah nishtanah) - this is great for reviewing what they are!
-->Horseradish root (marror/bitter herbs) shedding a few tears, holding out a bowl of charoset (the mixture that the marror is dipped into)
-->A Haggadah telling the story of Passover - from slavery to redemption.
-->For all my Passover printables, games, coloring pages, and activities: https://www.etsy.com/shop/momsandcrafters?search_query=Passover
Note: I treat my art like art! That means that you may see some imperfections as would be expected in anything hand-drawn. I hope you can love and appreciate it like I do!
**This is an automatic digital download (fulfilled via Etsy)- you get 1 9-page PDF file in 8.5x11 - letter- size.**
**Licensing**
This is for personal use only!
You may use it in a classroom as a teaching tool.
You may print it as a Passover gift to one person or to use on your own.
You may not sell it, share it, or redistribute it in any manner, or earn money off it in any way.
If you would like a commercial license to redistribute, please request the "customize" option and we'll discuss it further.
**Customization**
If you would like any customization or licensing for expanded use, just hit the "customize" button and let me know