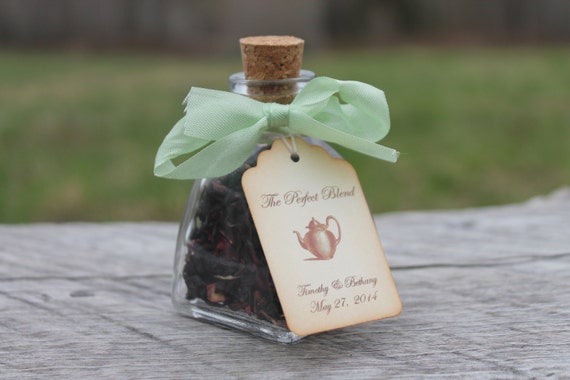 Organic Tea Favor -Organic Tea in Recycled Bottle with Vintage Seam Ribbons- The Perfect Blend-Belle Savon Vermont
By Belle Savon Vermont
Product Info
The Perfect Blend!!
This adorable little recycled glass diamond shaped 2oz bottle with a cork top contains your choice of Organic and Fair Trade Zhena brand teas and tied with your choice of any color vintage inspired ribbons.( ribbon included)
***add a custom tag for .45!!
Specs:
Height 2.88 inches
Width 2 inches
Length 2 inches
Neck Opening 5/8 inches
Volume 2oz (60ml)
Please allow 2-3 weeks for orders
Wild Berries~A beguiling blend of berries, petals and superior grade caffeine-free Rooibos combine to create a warm, rich, absolutely delightful cup~Fair Trade Certified South African Rooibos*, Rosehip, Hibiscus*, Elderberry, Naturally Extracted Essential Oils & Fruit Extract
* Certified Organic
Raspberry Earl Grey~The floral aroma of juicy raspberries is perhaps the perfect complement to the sweet citrus and full-bodied flavor of Earl Grey. This more exceptional version of the classic tea is artisan, hand-crafted in small batches and infused with only top-grade essential oils of real fruit to brew a sweet, succulent cup~Fair Trade Certified Ceylon & Indian Black Tea*, Italian Bergamot*, Freeze-Dried Raspberries*, Raspberry Flavor*.
* Certified Organic
Lemon-Jasmine~Jasmine, famous for its flowery perfume and sweet pleasing notes, embraces the fragrant citrus of Australian lemon myrtle and the superior, light liquoring of top grade Ceylon tea leaves. This is an exhilarating and delicious cup you will surely savor~Idulgashinna Estate Ceylon Green Tea, Australian Lemon Myrtle*, Natural Jasmine Essence.
* Certified Organic
Pomegranate-Rose~The delightfully floral perfume of garden young handpicked rose buds and petals, atop the fresh fullness of green tea, embraces the luscious sweet juicy notes of pomegranate for of this delicious high in antioxidants, caffeine-free tea. This tea is decaffeinated using the CO2 high pressure circulation extraction process, which uses natural carbon dioxide to remove the caffeine without diminishing the flavor, quality and health attributes of the tea~Fair Trade Certified Naturally CO2 Decaffeinated Southern Indian Nilgiri Green Tea*, Bulgarian Rosebuds*, Pomegranate Flavor*.
* Certified Organic
Pumpkin Spice~Enjoy a trip through the pumpkin patch with this naturally caffeine-free organic blend of superior South African Rooibos flavored with sweet Madagascar vanilla beans, finished with the tasty tingle of cinnamon and ginger. This tea offers a warm soothing cup for crisp days and cool nights~Fair Trade Certified South African Rooibos*, Honeybush, Ginger Root, Cinnamon, Nutmeg, Vanilla Bean, Naturally Extracted Oils & Fruit Extracts.
* Certified Organic
Blood Orange Tisane~A luscious and fruitful blend, high in antioxidants and caffeine-free, this tisane is lively with a rich spectrum of engorged citrus scents and flavor. Refreshing over ice~Blood Orange Peel*, Lemongrass, Rosehips, Superlative Grade Rooibos and Mandarin.
* Certified Organic
Gypsy King Chai~Our classic Masala Chai blend of traditional chai spices are perfectly balanced with rich, Assam black tea for a full bodied, satisfying brew. Zhena traveled the chai stalls all over India and found this blend to be the favored among the northern Indian Punjab region. Perfect with milk and sweetener, this spicy blend opens with a cinnamon sweetness and lingers with warming ginger on the palate. Enjoy and be transported to the great chai regions of India's northern landscapes~Assam Black Tea from India*, Cinnamon*, Indian Ginger Root*, Cardamom Pods*, Whole Cloves*, Spanish Orange Peel*, Nutmeg*, Black Pepper*.
* Certified Organic
Gypsy Rose~The fragrant notes of rare grade Sri Lankan tea leaves are punctuated with the aromatic petals of select hand-plucked roses which give this brew its soft pink hue. You will take pleasure in the intoxicating, fragrant bouquet that lightly scents the rising steam~Chinese Black Tea*, Red and Pink Rose Petals* and All Natural Flavors*.
* Certified Organic
Read more about these teas at Zhenas.com
Alice~ "Why, sometimes I've believed as many as six impossible things before breakfast"