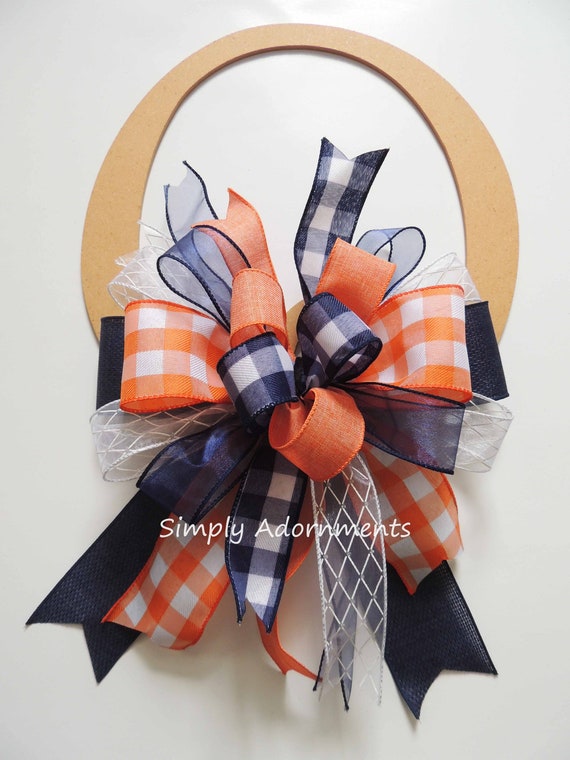 Navy Orange Buffalo Check Bow, Navy Orange Check Bow, Navy Orange Bow, Farmhouse Buffalo Plaid Check lantern Bow, Navy Orange tree bow
By Simply Adornments
Product Info
Navy Orange Buffalo Check Bow, Navy Orange Check Bow, Navy Orange Bow, Farmhouse Buffalo Plaid Check lantern Bow, Navy Orange tree bow
This listing is for the BOW ONLY. The WREATH or WOOD LETTER is NOT INCLUDED.
This Navy Buffalo check bow is created with 6 different wired ribbons. There are 2 of 2.5" wide ribbons and 4 of 1.5" in width wire-edged ribbons. It's 10" wide and 12" long, with length is from top of the bow to the end of its tails. This beautiful bow is full and has many short tails.
This check burlap bow is a perfect accent for every day wreath; or as a decoration for any parties, receptions, large gifts, wreath, swag, banister, door hanger, wedding aisle, arches and many more places that you want to draw attention, as an interesting view or a special marked area. Also, wire-edged ribbon bow can be stored and re-used for other events, or even as gift bows since they are portable, and can be easily stored and reshaped.
NOTE:
* The bow is securely tied with florist wires and finished with chenille stem for easy attachment.
**We provide customized bow per your request. We can tailor the bows to your specific requirement such as different color, pattern or size, etc. If you're interested, please send us an email for detailed pricing information.