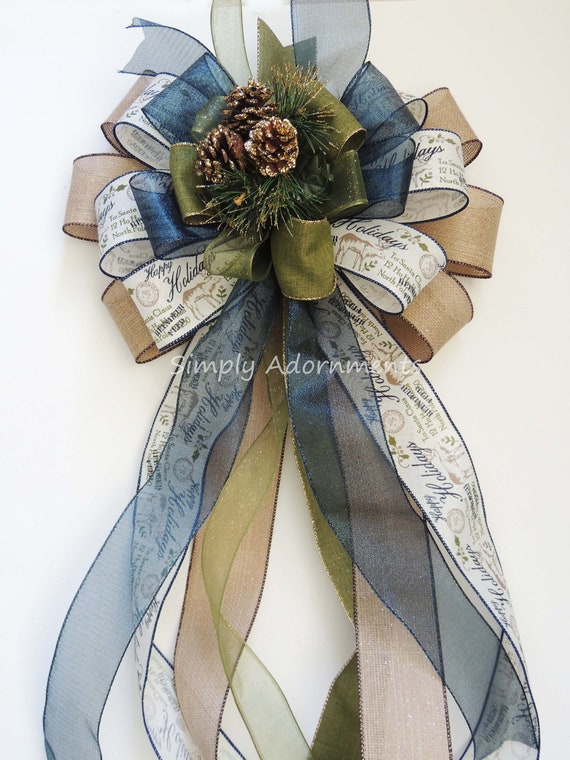 XLarge Christmas topper Bow, Navy Moss Christmas Tree bow, Pinecones Navy Moss green Christmas Bow, Navy Green Tree topper bow, Door Decor
By Simply Adornments
Product Info
XLarge Christmas topper Bow, Navy Moss Christmas Tree bow, Pinecones Navy Moss green Christmas Bow, Navy Green Tree topper bow, Door Decor
This bow is made of 4 wired ribbons and the an optional of artificial hollies with pine cones pick . The ribbons are 2.5" and 1.5" width wire-edged ribbons. The bow is measured 14"W x 22"-26" tails (or 14"W x32"L). The bow length (L) is from top of the bow to the end of its tails. This particular bow has 8 varying long tails and 4 short tails.
This Happy Holiday bow is perfect for any Christmas decorations, Tree topper, X-Large wreaths, Door hanger bow, staircase, fireplaces, mantel, XLarge presents, etc...during this holiday season. Also, this Christmas wire-edged ribbon bow can be easily stored and reshaped.
NOTE:
* The bow is securely tied with florist wires and finished with chenille stem for easy attachment.
** If you love the bow but need a different color or pattern please message us, we can assist you to match your requirement.