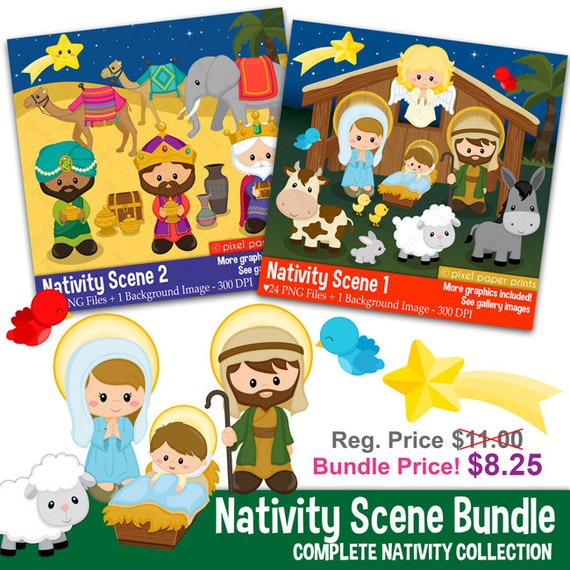 Nativity Bundle - Nativity clipart - Bundle price - digital download
By Pixel Paper Prints
Product Info
Are you looking for cute high quality clip art images to use in your projects? You've come to the right place!
PLEASE TAKE A MOMENT TO READ MY PRODUCT DESCRIPTION AND SHOP POLICIES BEFORE PURCHASING THIS ITEM, even if you have purchased something from my shop in the past – I know this can seem a little bit boring but once you read them, you will feel more confident about the type of product you are buying and the permitted uses for it ☺
By purchasing this item, you will receive the complete "Nativity Scene collection" from Pixel Paper Prints. You will receive 2 Clipart and digital paper sets.
Click here to see the sets that are included when you purchase this item:
https://www.etsy.com/listing/255819472/nativity-scene-1-clip-art-and-digital?ref=shop_home_active_1
https://www.etsy.com/listing/255818892/nativity-scene-clipart-clip-art-and?ref=shop_home_active_2
NATIVITY SET 1 - Digital paper and clip art set
NATIVITY SET 2 - Digital paper and clip art set
Please see the gallery images of each Nativity set set so you can see all the elements color variations, sizes and formats that are included.
NOTE: THIS PRODUCT DOES NOT PARTICIPATE IN THE "BUY 3 GET 1 FREE SALE"
This product is a digital item that is going to be sent to your email address. If you need the clip art images in jpg format please mention it in the "note to seller" at checkout, just keep in mind that those will have white backgrounds instead of transparent backgrounds.
You'll love the way you can take charge of your projects with these easy-to-use elements that can be easily arranged in any way you like. These graphics are unique, created with love and are ideal for the projects you seek to put your heart into.
About my process: When I get started on a new set, my first step is to imagine the characters and elements I want to create. Next, I draw all of these concepts by hand the old-fashioned way using paper and pencil. After that, I digitize them so that they convert each of my original details into digital strokes so that they can be used and reproduced in any number of projects.

The formats used in my files (.jpg and .png) are very common and can be opened with any program that allows you to work with images. If this is the first time you are purchasing clip art images and you want to make sure that these files will work in your current setup, you can contact me to request a file sample: just send me a message mentioning it and include your email address.
Note: DIGITAL COLLAGE SHEETS, BOTTLE CAP IMAGES and any product that resembles them are NOT allowed. You can create them for personal use, however you cannot sell them in digital format.
You can find more about the allowed uses in my policies section.
------------------------------------------
WHEN AND HOW ARE YOUR FILES GOING TO BE SENT?
------------------------------------------
Once the order is placed, you will receive an email with a link to download your files within 24 hours following the payment. When paying with checks, please note that payment frequently takes 3 – 5 business days to complete. Unless you specify something different in the "note to seller" at checkout, I will send your items to the email registered in your Etsy account.
I'm almost always able to send your files within a few hours or even minutes. I always send them as soon as I'm able to sit in front of my computer. However, if you urgently need your files and you are not able to wait up to 24 hours, you can contact me before purchasing my products and I'll let you know when I'll be able to send them so you can decide if the turnaround time is convenient for you (I promise I'll hurry!).
If you see your order marked as "shipped" and/or if 24 hours have passed and you haven't received your files, I recommend for you to look for the email in your spam folder. Sometimes email providers don't realize that the email I sent you contains something really cute and that you are waiting for it and they sent it to your "not wanted" or "spam" folder. If you can't find my email anywhere, please contact me and I'll send it again, and, if it is necessary, I can use a different delivery method.
------------------------------------------
LICENSES
------------------------------------------
These graphics can be used for personal and commercial purposes. In all cases you need to follow my terms of use.
The standard licenses included when you purchase this item are:
-License for personal use: Any personal project in which no profit is made.
-License for commercial use: If you have a small or home-based business, you can use any of the images you purchase in my shop in your products to sell (see permitted uses and restrictions in the policies section). With this license it is necessary to give credit to my shop with the words "Graphics by Pixel Paper Prints". Credit needs to be placed in your product description, on the same page as the product in an easily readable fashion.
Extended licenses
-License for commercial use with no credit required: If you want to use my graphics in your products and you do not wish to credit my shop you need to purchase this permit. One license needs to be purchased for every set of graphics for which you do not want to credit my shop. The cost of it for most of my products is $20.
-Mass production license:
This license includes all of the benefits from both the standard and extended licenses and eliminates the 1000 piece reproduction restriction. You need to purchase this license if you intend* to sell more than 1000 products using one or more elements from a single set of graphics as part of your product design (physical and/or digital). For more information on this, check out the section "Permitted uses" under "Policies"
All the licenses are non-exclusive and non-transferable.
------------------------------------------
WHAT PROGRAM DO YOU NEED TO WORK WITH THESE FILES?
------------------------------------------
That depends on the project you want to create, but here is a list of some popular options:
-Adobe Photoshop /Photoshop elements
-Gimp (you can download this one for free at: http://www.gimp.org/ )
-Microsoft Publisher
-Microsoft Word (only for basic compositions).
-LibreOffice (Writer is a free alternative to Word).
If this is the first time that you are working with this type of product, I will be happy to help you as much as I can and I'll be glad to guide you towards any tutorials online that might help you with the project you have in mind, but I hope you can understand that it is not possible for me to offer training in the use of these graphics and such service is not included with your purchase. There are several really fantastic sites out there for such training. I recommend Lynda.com to gain familiarity with new software suites.
It is really easy to manage and print these images, but if you want to be sure that you are going to be able to use them and/or if you have the necessary software/program to work with them, I can send you a sample of one of my files so you can try it and see if it works for you before buying a product, just contact me and provide me with your email address so I can send you the sample file.
------------------------------------------
By purchasing a product from Pixel Paper Prints you agree to follow the Terms of Use specified in the description of the purchased item and in the policies section: https://www.etsy.com/shop/pixelpaperprints/policy?ref=shopinfo_policies_leftnav
When you purchase this item in, you will receive a text file with a copy of the requirements stated in the policies section.
Pixel Paper Prints artwork cannot be shared or sold with as they are (See definition of "as they are" in policies section) under any circumstances.
The same terms and conditions are applied to the items you receive as gifts from me/my shop and/or freebies that you receive as part of a special sale (example: "buy 3 get 1 free")
All the sample images and designs that are used in this Etsy shop including: Shop banner, avatar and images used to show and describe each product and product content and sizes, are not sold and have never been sold. They cannot be used without Pixel Paper Prints express written authorization and the right to use them is not included when you purchase this product.
DMCA, International and U.S. Copyright laws and conditions related to them must be always obeyed even if you don't make a purchase in this shop.
All copyrights remain with Pixel Paper Prints.
All rights reserved to PixelPaperPrints © 2011-2017