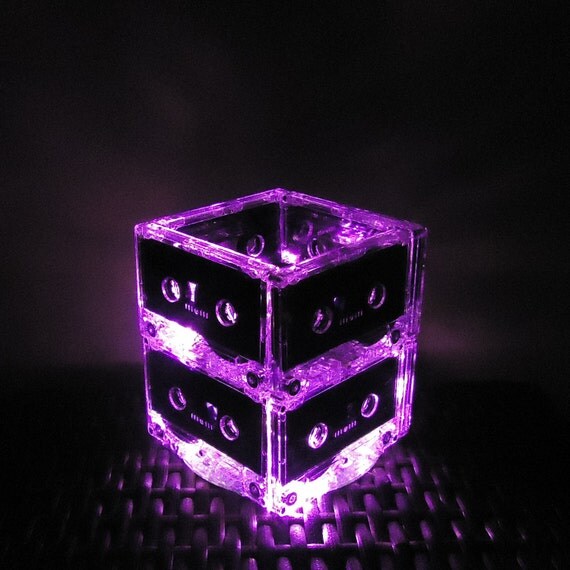 Music Wedding 10 Pink 80s 90s music theme wedding lighted mixtape cassette tape centerpieces retro repurposed pink lights
By Break The Record
Product Info
These 10 PINK Party Lights MixTape Lighted Centerpiece Lamps will add the fun and life into any wedding, party or event!
This listing is for a quantity of 10 PINK Mixtape Cassette Tape Lighted Centerpieces.
Perfect centerpiece or other table decoration for any music themed wedding or 80's, 90's or music themed party!
Your guests will love these totally unique and retro Cassette Tape Centerpiece Lights. They will be fighting over who gets to take one home.
Each centerpiece is made from 8 very rare completely blank cassette tapes and one CD handcrafted into a super fun rockin' retro lighted centerpiece holding 10 battery operated PINK mini LED lights.
Requires 2 AA batteries.
Can also be made to hold water if you plan to add fresh flowers. Just be sure to put in note at checkout when making purchase.
Other colors available.
I take great pride in the construction of my Cassette Tape Lights. The idea came to me last year when someone purchased a Vinyl Record Clock from me for her unborn son's nursery. It was a retro themed nursery and I thought "wow, what could I make out of cassette tapes for a retro themed bedroom, nursery, or even a party?" My first thought "every baby's bedroom needs a night light!!!!" So I got out some of my old cassette tapes from the early 90's and started experimenting. And the Cassette Tape Night Light Lamp was born!
*************All of my Cassette Tape Lights are handcrafted to perfection. I only use LED lights which produce zero heat. Lights are placed and secured into perfect position. *****************
Please allow 2-3 weeks for production.
Ships via priority mail within the U.S.
International orders will ship via first class mail.