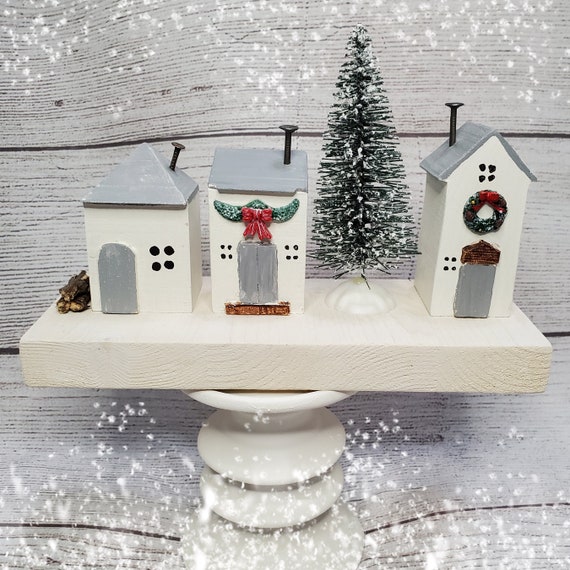 Miniature Houses, Winter Wooden Houses Ornaments, Tiny Houses, Wood Decor
By Mis 2 Manos
Product Info
Cut in the USA!
Miniature houses wood. These tiny house are lined up in street form, with one pine tree on between the homes, and chimney fire wood outside one of the houses. There are a total of three house. This tiny wooden house ornament is made from bass wood. Eacy miniature house is painted old white and gray roof. It is painted to look shabby. Each mini house has hand painted windows, staircase and door. A metal nail poses as a chimney. The roof of each mini wooden house is hand painted gray. Each tiny house comes ready for the holiday season with a red bow, a wreath or a pine tree.
A cute and unique wood gift for any occasion. Or to add you your winter wonderland collection.
Each house is:
Small decorative wood house.
Each small house is made from bass wood.
Each tiny house is painted off white.
Each tiny house looks shabby.
Each mini wooden house a wooden door.
Each tiny house is finished with a nail as a chimney.
Each miniature house has three hand painted windows.
Each window is painted black.
Each miniature wooden house has a gray roof.
This mini wooden house ornament makes an ideal gift for new home or lovely and unique wood gift for yourself.
House Size : 2 inches x 1.5 inches wide x 1 inch approx.
Base Size: 3" x 7.5" x 0.5"
SHIPPING TIMES ****
Due to the current situation and potential delivery carrier delays there is a chance your package may not arrive on the originally estimated date.