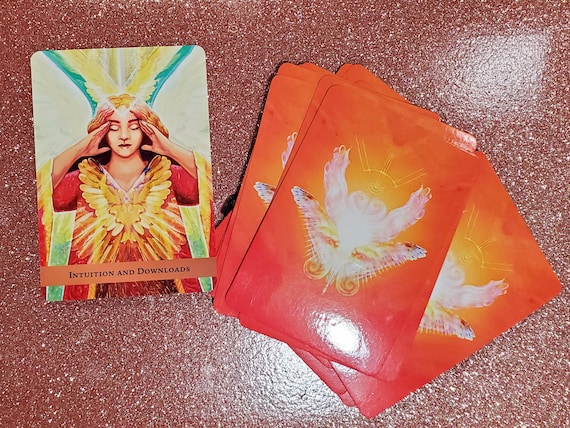 Product Info
This offering is for ONE Angel Card Reading.
I begin every reading with a prayer and the intention of asking Source, Spirit, and Guides to help me pull the best card that will serve your highest good.
=================================
You have a few choices to make:
=================================
*CHOICE 1- If you simply want me to pull an angel card that answers the question: "What is it I need to know now?" I will then send your Angle message via Etsy.
*CHOICE 2- If you would like me to send you a photo of the card I pulled for you along with the message that answers "What is it I need to know now?" that is your second choice.
*CHOICE 3- If you have an open-ended question you would like me to ask, that is a question that cannot be answered with a yes or a no, then you can email me the question and I will send you the answer, along with the image of the card.
==================
HOW IT WORKS
==================
*Messages will be delivered 24 hours after you place your order, Monday-Friday. Orders received on the weekend will be delivered on Monday evening.
*Get ready to receive your channeling!
================
IMPORTANT!
================
As per ETSY policy, I am required to let you know:
*Readings are only intended for ENTERTAINMENT purposes only, and they're not a substitute for MEDICAL, LEGAL, or PSYCHOLOGICAL advice.
*I don't control the messages I channel, I'm simply a vehicle.
*Please take only what resonates with you.
*The purpose of an Angel Card Reading is to help you to make mindful decisions. The card reading does not take away your free will, which means you still have to make your own independent choices.
----------------------------
PLEASE NOTE
----------------------------
* No guarantees or REFUNDS accepted but please feel free to contact me for any doubt you might have: I am here for you.
*With your purchase, you agree that you are 18 years or older.