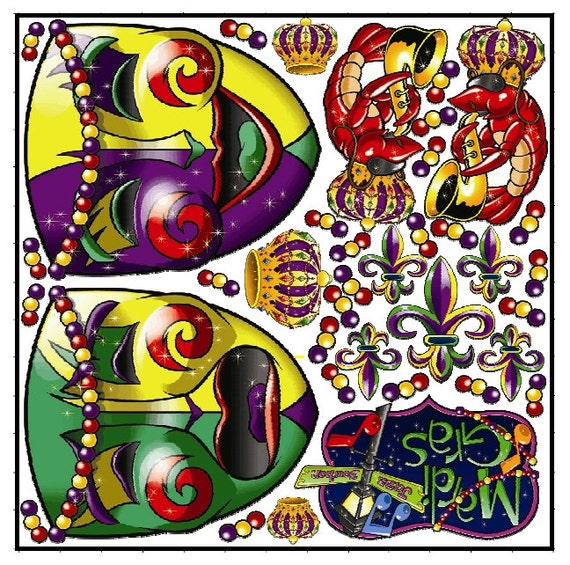 Mardi Gras Graphic Kit - reusable decal sticker decorations
By Deladiep, Inc.
Product Info
This is our Mardi Gras "Graphic Kit." The decals in this "Graphic Kit" are die cut from a template that measures 29 inches wide and 29 inches high. That's 841 square inches.

Kling-Onz are NOT cheap static clings. Kling-Onz are hi-tech, hi-resolution decals that stick safely to any and all smooth surfaces inside and outside in any type of weather; from torrential rains, hurricane winds to freezing temperatures, snow and blistering sun and desert heat.
You get the following 85 super sized decorative decals:

· 2 Jumbo Masks
· 2 Large King Crawfish
· 1 Large Bourbon Street
· 3 Medium King Crowns
· 5 Medium Fleur De Lis
· 72 Small Beads

Stop paying four times the price for decals and stickers that only work indoors. KlingOnz work inside and outside. Not even Fathead can say that!

Graphic Kit sold separately. Buy yours now! Add 1 or 2 more items to your cart and you might find out there's no additional cost in shipping. What do you have to lose, try it and see.

Don't forget to share your photos and video with us either here or on Facebook. We would love to show others how you are creatively using KlingOnz.

Mardi Gras "Letter Kit" Sold Separately.