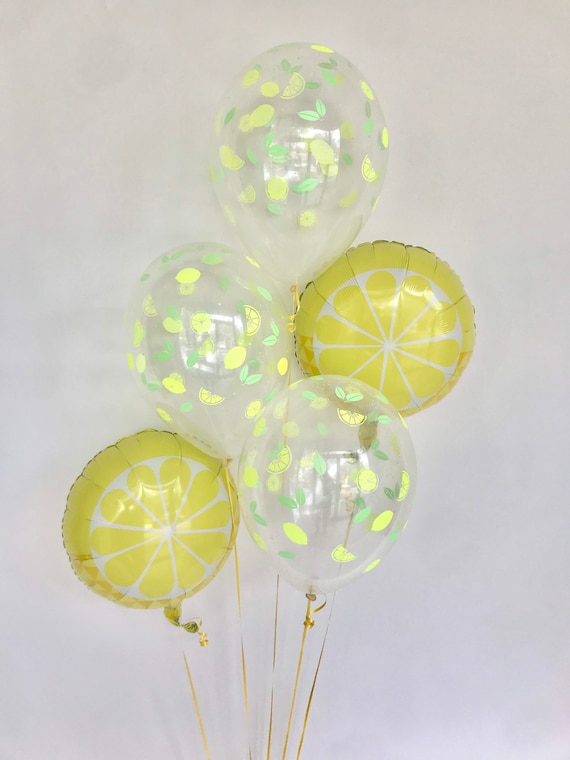 Lemon Balloons - Lemon Squeezy - Main Squeeze - Fruit Balloons - Lemon Decorations - Lemon Party - Lemon Rush - Lemonade Stand
By Chic Balloon Boutique
Product Info
These Brand New Lemon Balloon Arrangement are great for Lemons Showers, Lemonade Stands, Lemon Decorations, Citrus Party, Little Cutie Party!
This Listing includes:
3 - Lemon printed Clear 11inch Latex Balloons
2 - Lemon 18 inch Mylar Rounds
OR
3 - Lemon printed on Clear 11inch Latex Balloons
*IMPORTANT BALLOONS CAN BE A CHOKING HAZARD!!
*Keep in a cool place for the best quality of the balloon, extreme heat or other weather conditions will affect this product.

*This balloon can be inflated with helium or air. (When inflated with air the balloon will not float.)
*DO NOT over inflate balloon or it will pop.
*The Balloons are being sent flat and deflated.
*Any photos shown on shop listings were created by our professional team.
We can create custom orders within our shop, look forward to new and creative arrangements coming soon!!! IN THE BALLOON SHOP THE OPTIONS ARE ENDLESS!!!
Any questions feel free to contact us!!!
#chicballoonboutique #creativecompany #makingmemories