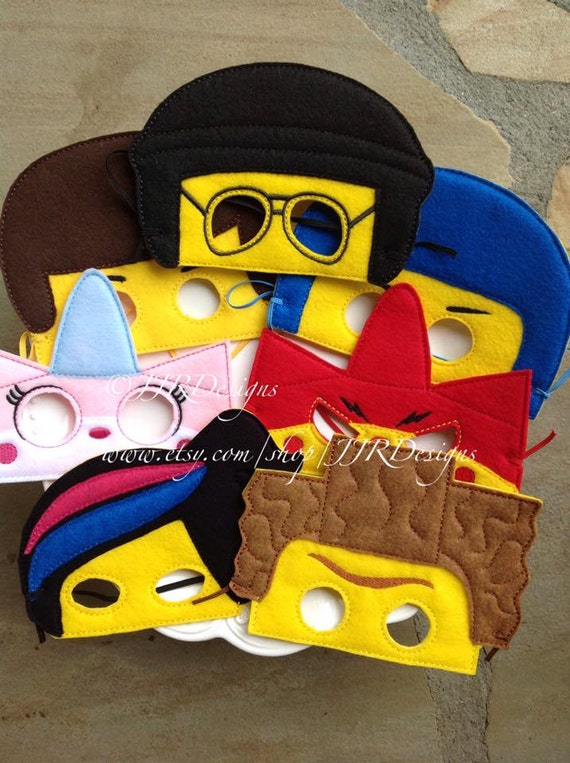 Lego Inspired Mask- Lego Inspired Masks- Emmet Inspired Masks- Lego Inspired Mask- Unikitty Inspired- Wildstyle-Emmet Mask- Wild Style Mask
By JJRDesigns
Product Info
These are high quality made masks.These are dress up/play masks! I have several styles available. These vary in size..about 5-6" wide and 5-6" tall, Emmet is a little larger and Wild Style is a little smaller.
These masks are intended for Children Only. Some masks MIGHT fit adults, but before purchasing for adults, please convo me for dimensions.
**NO ADULT SIZES CAN BE MADE AT THIS TIME*** THANK YOU!
Available Styles:
#1- Emmet Inspired-
#2- Wildstyle Inspired -
#3- Unikitty Inspired -
#4- Bad Cop Inspired-
#5- Lego Block Inspired- I can make other colors also of the block. Message me first to make sure I have the color in stock.
#6- MAD Unikitty (Yellow and Red)-
#7- President Biz-
#8- BENNY spaceman blue helmet
#9-Commissioner- Gray Hair and Glasses
#10-Batman Lego- Black with white stitching
#11- Batgirl Lego- Dark Purple (Comes with purple stitching, can also do white or yellow you can specify in notes at checkout)
SET OF 3 MASKS includes: Emmet, Wildstyle and Unikitty.
SET OF 7 MASKS includes: Emmet, Wildstyle, Unikitty, Bad Cop, Lego Block, President Biz and Bad Unikitty- includes extra shipping.
SET OF 8 MASKS includes: Wildstyle, Unikitty, Bad Cop, Lego Block, President Biz and Bad Unikitty and BEN-includes extra shipping.
You can select 10 LEGO BLOCKS or 15 LEGO BLOCKS as well for party favors. You can mix and match your colors.
Each mask has a different price depending on the material and time it takes to stitch it out. These are made out of premium felt and thread. *****The eye holes for WILD STYLE are a LITTLE SMALL for kids over 8 than Emmett and Unikitty. If you need exact measurements for older kids, please CONVO me before purchasing.******
Each mask come with MATCHING COLOR skinny elastic and you can adjust if needed!
At this time these masks CANNOT be made into ADULT SIZES. If that changes I will update the listing. SOME of them will fit adults, some are too small. Convo me for dimensions if you're uncertain.