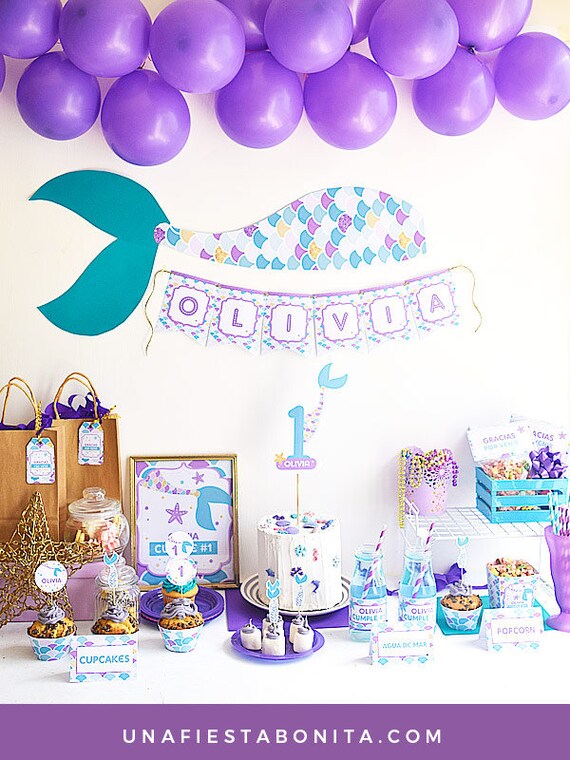 Kit printable Little mermaid for the first year: printable package for birthdays, decoration of mermaids,
By Una fiesta bonita
Product Info
A magical party awaits you! Celebrate the first year of your little mermaid with this beautiful printable kit. Celebrate 12 months full of adventures with your family and friends. All ready to customize your texts and print.
YOUR PURCHASE CONTAINS:
Templates for the garland (editable texts)
Multipurpose toppers (editable texts) 3 different designs of 5 cms each
Wrappers (capsules for cupcakes)
Sheet # 1 Name and age, Sheet A4 (editable texts)
Templates for assembling boxes (editable texts)
Tags for sachets (editable texts)
Labels for candy bags 12.5 cms wide (editable texts)
Labels for bottles (editable texts)
Small pieces of food (editable texts)
Topper for the cake or for decoration (editable texts)
Toppers for cupcakes in the form of "mermaid tail"
Sheet # 2 - Important Data of the First Year Leaf A4 **
** For sheet # 2 of "Important data" it is necessary that you send me the data and in the space of 24 hours I will be sending you the file. You must send me the information to [email protected] or add them to the box that appears in the cart area where it says "Special instructions for the seller". The data that I suggest you send me are:
Height
Weight
Things that you love (3)
Favorite food
Favorite book
Favorite toy
First words
Number of teeth
2 more data you want to add
Of course, you can change some data for others you want or omit some if you do not apply.
HOW DOES IT WORK?
1. INSTANTLY DOWNLOAD YOUR FILES
After payment, follow the link to the download page and click on the "Download now" button.
3. INSTALL LETTER TYPES
You must install the types of letters that are attached to your purchase, this is so that the texts look the same as the images.
3. OPEN YOUR FILES IN ADOBE READER
The files will ONLY work in Adobe Reader! Make sure you have the latest full version installed. Download it for FREE at http://get.adobe.com/reader/
* MAC users need to open files directly from Adobe Reader and NOT Preview.
3. PERSONALIZE YOUR FILES
With your file open in Adobe Reader, simply write about our sample text. Save the changes you make. YOU CAN NOT change the graphics. All text is editable unless otherwise indicated at the top of this list.
4. CHOOSE YOUR PAPER
All designs are configured to print on A4 paper. I recommend printing on 200gr white paper. Download this guide to know what kind of paper to use in each element!
5. PRINT YOUR FILES
Print at home or take the files to the printer. Make sure your print shop opens the files in the LAST version of Adobe Reader.
You CAN NOT print the files as photos in a photo lab (they are not JPEGs or types of photo files) or in online photo printing stores.
6. CUT YOUR DESIGNS
Cut / cut with scissors, craft knife, paper cutter or punch. Some designs may need assembly.
TERMS OF USE
This file is for personal use only, that is, it must NOT be used for commercial purposes. You may not copy, share, sell or distribute the file in any way. This list includes only digital files. No physical items will be sent.