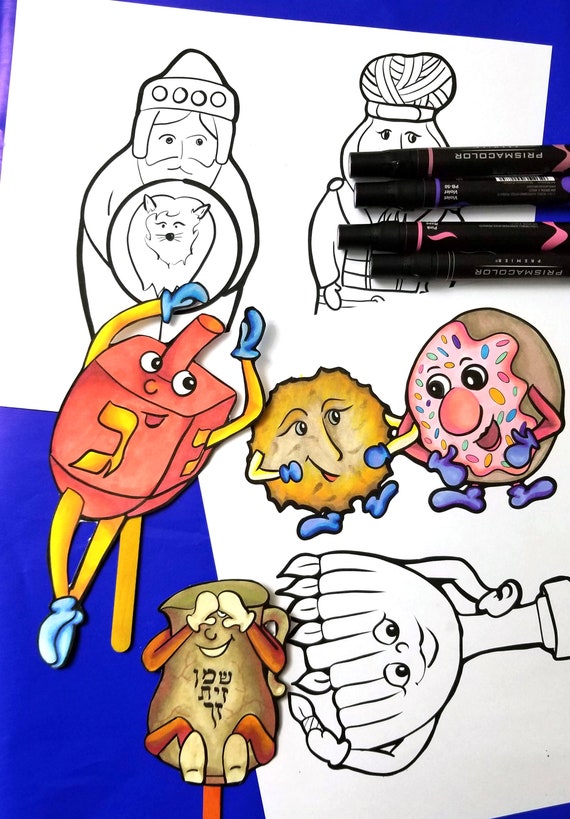 Hanukkah Puppets - Printable PDF COLOR-IN Coloring Pages Puppets for Chanukah Story and Traditions
By Moms & Crafters
Product Info
Some fun Hanukkah puppets to tell over the story of Chanukah - along with coloring page guides that explain the puppets!
Great visual aid for teaching about Hanukkah, with accuracy in the Hebrew lettering, and as much as possible in the historical aspects.
This is the full bundle including both traditions and story characters.
You get 1 multi-page PDF file including:
* 1 introductory/cover page with instructions
* 1 page explaining the traditions puppets. This page is colorable too.
* 2 pages with two puppets each: Latkes and donuts holding hands, Hanukkiah (menorah), dancing dreidel, and flask of pure olive oil
* 1 coloring page explaining the gist of the Hanukkah characters' roles in the story
* 2 pages with two puppets each: Antiochus - the evil ruler who outlawed Jewish practice with the penalty of death, Yehudit (Judith)- the brave widow who cleverly saved her entire village from siege and certain death, A Maccabbee - either Matityahu - the father of the Maccabim or Yehudah (Judah) Maccabbee, and Yochanan Kohen Gadol - one of the primary leaders at the time and champion of the miracle of the oil.
THE SECOND IMAGE SHOWS THE PDF PREVIEW of the cover, including thumbnails of all the puppets and the explanatory pages.
PROCESS:

* I sketched the concept in pencil until I was happy.
* I scanned it and drew over it using my Surface Pro.
* I configured the best sizing and layout and put together the guides.
Now it's your turn: print on cardstock, color, cut out, and glue onto craft sticks!
Note: I treat my art like art! That means that you may see some imperfections as would be expected in anything hand-drawn. I hope you can love and appreciate it like I do!
**This is an automatic digital download (fulfilled via Etsy)- you get one 7-page PDF file in 8.5x11 - letter- size**
DOES NOT INCLUDE: MARKERS, CRAFT STICKS, PRINTED COLORING PAGES, OR ANY OTHER SUPPLIES PICTURED.
**Licensing**
This is for personal use only!
You may use it in a classroom as a teaching tool.
You may print it to gift to one person or to use on your own.
You may not sell it, share it, or redistribute it in any manner, or earn money off it in any way.
If you would like a commercial license to redistribute, please request the "customize" option and we'll discuss it further.
If you are a for-profit business, you may print this AS AN ACTIVITY for up to 10 participants. You can purchase multiples of this products in proportion to your group size. For groups of more than 100, please contact me first.
**Customization**
If you would like any customization or licensing for expanded use, just hit the "customize" button and let me know
**Important to note**
Due to the variations between display colors on your monitor and print colors, you may see a slight variation in color when you receive your download.