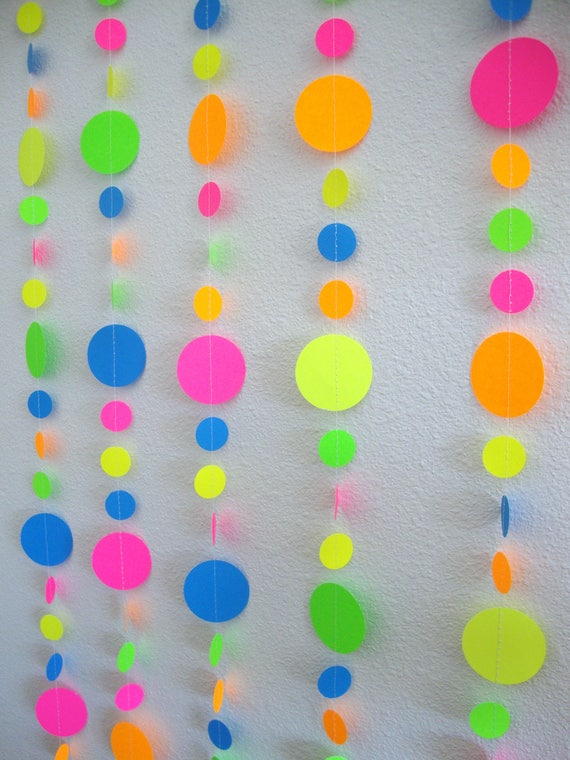 Glow Party Neon garlands, Retro 80s decor, Black light party decorations, Glow in the Dark party backdrop
By Paper Dot Party Spot
Product Info
These neon glow party garlands are easy to hang and they quickly transform your plain room into a magical glow party. They are made from sturdy fluorescent poster board, so they are durable and can be used over and over. Use them with a black light to make them flouresce like crazy and light your glow party.
Orders over $35 ship for free! So be sure to stock up on other matching glow party decorations from my shop. You can find everything here:
https://www.etsy.com/shop/PaperDotPartySpot
Use the pull-down menu to select length and quantity you want
You won't believe the glow power of these colorful strands! It is a super fun, whimsical and inexpensive way to dress up a black light, neon, or 80s retro party. These 2" and 1" dots have been sewn together with strong, quality thread.
Please note that these garlands do not glow in the dark on their own. You will need a black light to reflect on the garlands so that they fluoresce. The garlands are made from neon card stock that fluoresces like crazy under black light.
Picture 3 and 8 show buyer's pictures of the garlands in use at a party. Drape them across the front of a food table, or intersperse them with star garlands from my sho for a cool look.
The blue dots in this listing, depending on the availability of the blue poster board I use, are either double-sided with purple on the other side or blue on both sides. The blue does not fluoresce as much as the other colors. These garlands are especially great if you will not be using blacklight, but will be doing a daylight neon party. If you will be using blacklight for most of your party, you may want to consider this garland listing with white dots. The white paper is extremely reflective and glows blue under blacklight:
https://www.etsy.com/listing/759333688/glow-party-decorations-neon-garlands-for?ref=shop_home_active_2&frs=1
Like this listing and want more matching decor? Click here to go to my glow party section to find matching garlands, centerpieces, cupcake toppers, and more:
https://www.etsy.com/shop/PaperDotPartySpot