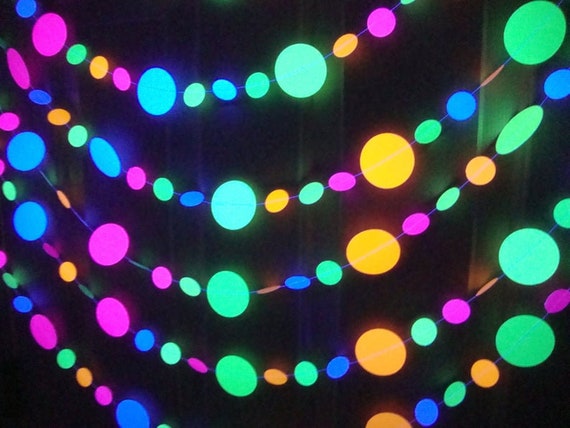 Glow Party Garland, Neon Party Decoration, 80s Party Decor, Glow Party Hanging Decor, Skate Party Decor, Glow Party Polka Dot Garland
By Paper Dot Party Spot
Product Info
These UV reflective fluorescent paper neon garlands instantly transform your plain room into a magical, super cool glow party! The garlands are lightweight and easy to hang. Just put them up, turn off the lights, and flick on the black light to see the garlands glow like crazy. What a fun decoration for a neon dance party, glow crazy party, skate party or 80s party.
Orders over $35 ship for free! So be sure to click on this link to check out all of my matching glow party items, like cake toppers, banners, other types of garlands, and cupcake toppers so you can get the best shipping deal:
https://www.etsy.com/shop/paperdotpartyspot/?section_id=22824647
Item Overview
• paper garlands made from heavy weight poster board
• Circles are 2" (5 cm) and 1" (2.5 cm) and are a pattern of three 1" circles followed by one 2" circle, followed by three 1" circles, etc.
• Garlands are not LED lights. You will need a black light shining on the garlands to make them glow. You can easily find black lights on-line. I recommend two or three 27W black lights for a space the size of a garage or basement and six to eight black lights for a space the size of a school gym.
• Garlands are made with neon pink, neon, green, neon yellow, neon orange, and white (which glows blue).
• Garlands are handmade by me in my shop and not a resold imported item. I punch out the circles with paper punches and machine-sew the garlands with strong, quality thread.
• Garlands are packed in plastic sealable bags to keep them tangle-free. Repack them after your party to reuse again. They are durable and can be used many times.
• I leave about a foot of thread on each end for you to be able to tape against wall or tie onto objects. If you are dangling the garlands from the ceiling, simply snip off the extra thread at the end.
How to Order
Use the pull-down menu to select the set/length of strand you would like. Here is a description to better help you.
2-foot strands (61 cm) and 3-foot strands (91 cm) are great for hanging dangling from the ceiling or for a little splash of color around the food table.
4-foot strands (122 cm), 5-foot strands (152 cm), 6-foot strands (183 cm) and 8-foot strands (2.5 meters) are great for draping across walls or hanging as a backdrop behind a food or gift table.
10-foot strands (3 meters), 12-foot strands (3.66 meters), and 15-foot strands (4.5 meters) are perfect for large parties to string across the ceiling from one corner of the room to another. You can even cut these long strands apart into smaller strands to hang from the ceiling.
You save more per foot of garland when purchasing longer strands or larger sets.
If you would like different sets and lengths, return to the menu to choose more.
Remember that by choosing more than one quantity, you are getting multiples of sets. For example, if you choose a set of four 2-foot strands from the "set of" menu and 4 from the "quantity" menu, you will get 16 2-foot strands (4 X 4).
If you have ANY questions about ordering, if you don't see a length of strand that you would like, or if you prefer to have a custom order set up, please send me a message. I'm happy to do custom orders.
Click on the link below to see all my matching glow party items:
https://www.etsy.com/shop/paperdotpartyspot/?section_id=22824647