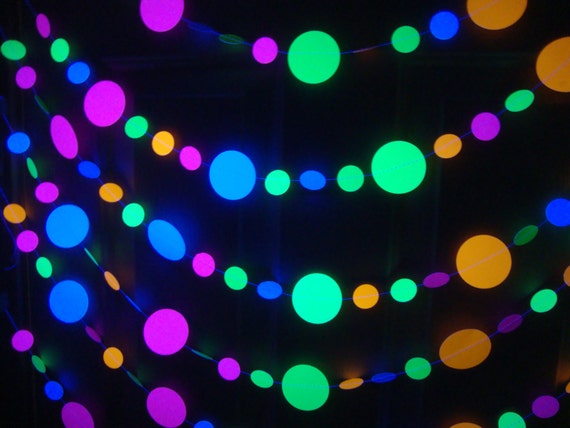 Product Info
Looking for an easy to hang decoration that will transform your plain space into an amazing glow party for your teenager or for a party with your co-workers? These garlands will amaze you!
These garlands do not glow in the dark on their own, so you won't have to worry about them running out of power in the middle of your party. To get the glow effect as seen in the listing pictures, you will need a black light, which you can easily find on-line. I recommend 2-3 27W black lights for a space the size of a garage or basement and 6-8 black lights for a space the size of a school gym.
Note: the price listed is for one individual strand. The pictures so several strands hung together.
Pictures 3 and 4 show the garland by daylight. If you are having a neon party in daylight without using a blacklight, you may find that you like a more colorful neon garland. You can see my listing for neon garlands with blue/purple dots (instead of white) here:
https://www.etsy.com/listing/535960387/glow-party-neon-garlands-retro-80s-decor?ref=shop_home_active_17&frs=1&crt=1
White dots fluoresce a bold blue under black light, so for a party under black light, I suggest this listing showing the garlands with white dots.
The garlands are made of 2" and 1" dots punched from fluorescent poster board and sewn together with strong, quality thread. I pack the garlands in small plastic zip-lock bags to keep them neat and tidy until ready to use. You can also repackage the strands back into the bags to store them and reuse again in case one of your other kids wants a glow party or in case a friend wants to borrow them. They are very durable and can be used over and over.
I leave about a foot of thread at the end of each strand so that you have plenty of length to tie the garland onto something or tape it to a ceiling or wall. I like to use masking tape to tape the ends since it is a fast and easy way to get the decorations up.
Ordering is easy...just use the pull-down menu to select the number of strands you would like. Each strand is 6-feet long.
If you have ANY questions about ordering, or if you don't see a length of strand that you would like, please send me a message. I love to do custom orders.
Click on the link below to see other glow party decor options like my neon banner (sold separately) shown in picture 3.:
https://www.etsy.com/shop/bethscardcreations/?section_id=22824647