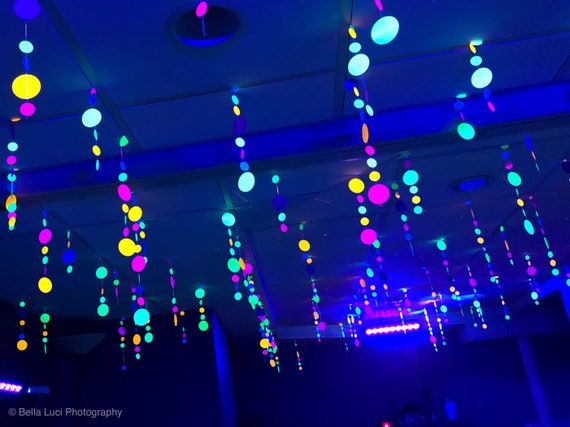 Glow Party Decorations, UV Reflective Paper Garlands, Neon Circles, Neon Party Decor, 80s Party Decorations, Fluorescent Decor, Skate Party
By Paper Dot Party Spot
Product Info
Tape these light-weight paper neon garlands to the wall or ceiling and turn on the black light. That's all you need to do to make your party a glowing success! You will be amazed by their glow power, and your kids will think this is the coolest party they have ever had...you might, too!
These garlands do not glow in the dark on their own, so you won't have to worry about them running out of power in the middle of your party. To get the glow effect as seen in the listing pictures, you will need a black light, which you can easily find on-line. I recommend 2-3 27W black lights for a space the size of a garage or basement and 6-8 black lights for a space the size of a school gym.
•••DETAILS•••
Listing is for a set of 50 3-foot strands of garland.
Garlands are made from UV reflective poster board.
Circles are hand-punched and sewn by me,
Circles measure 1" (2.5 cm) and 2" (5 cm) and follow a pattern of three 1" circles followed by one 2" circle.
Garlands fluoresce under black light. You need a black light to make them glow.
Garlands are NOT LED lights.
Garlands are packed in sealable plastic bags for easy storage and to reuse over and over.
Pictures 4 and 5 show the garlands by daylight.
Pictures 9 and 10 show measurements and packing.
Pictures 1 through 3 show garlands dangling from ceiling,
Picture 7 shows garlands draped against a wall.
I leave about a foot of thread at the end of each strand so that you have plenty of length to tie the garland onto something or tape it to a ceiling or wall. I like to use masking tape to tape the ends since it is a fast and easy way to get the decorations up.
If you have any questions about ordering, or if you want a custom listing for a certain length, just send me a message here on Etsy, I love to do custom orders.
I have all sorts of matching glow party decorations! Click on the link below to check them out:
https://www.etsy.com/shop/paperdotpartyspot/?section_id=22824647