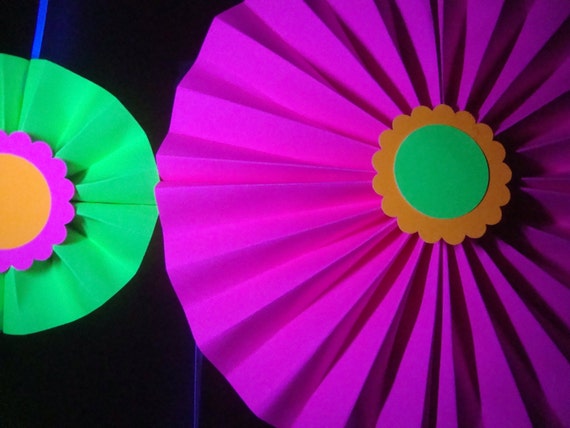 Glow Party Backdrop, Neon Paper Medallions, Sweet 16 Glow Party Decor, Neon Wall Hanging, Glow Paper Rosettes, Neon Paper Fans, 80s Party
By Paper Dot Party Spot
Product Info
These UV reflective fluorescent medallions will make your black light party decor amazing! Just turn out the lights and switch on the black light to see them glow!
The medallions are lightweight and easy to hang. They come pre-assembled, so you can take them straight from the box and hang them up. The medallions are made of heavy fluorescent poster board and are embellished on one side with contrasting neon colors. They do not glow in the dark, but they reflect black light as you can see from the pictures, and they look awesome either hung against a wall or hanging from the ceiling.
•••DETAILS•••
This listing is for one set of medallions. One set consists of eight (8) paper rosette medallions in the following amounts and sizes:
Four (4) 10" in diameter
Four (4) 8" in diameter
Medallions are made with UV reflective pink, green, yellow, orange and white (which glows blue) colors. All colors fluoresce under black light. They do not glow on their own. You will need a black light to make them fluoresce. The colors of each medallion may vary from shown, but all five colors will be used.
Medallions come with an ample length of white ribbon for you to use as needed to string up your medallions. There are holes punched in the top of each medallion for you to string the ribbon and hang one of two ways:
- You can cut a long length of ribbon, string it through the hole, tie it, and attach the end of the ribbon with masking tape to the ceiling
OR
- You can cut a shorter length of ribbon, string it through the hole, attach masking tape, and attach it to a wall.
•••ADDITIONAL INFO•••
Use the personalization box to list specifics for colors, if you have them. For example, if the party is for a boy and you don't want pink used, just add a note in the box. Or, if you prefer more medallions in a certain color, add that as a note.
Hang these from the ceiling, or along a mantel or stairwell or against the wall...just anywhere for a splash of color and birthday festivity.
One set works great as a backdrop for a cake, food, or gift table. It covers about 3-4 feet of space.
If you intend to hang from the ceiling over a dance floor, for example, two or three sets would work great. Hang each medallion from the ceiling about 2-feet apart
If you want to cover large sections of wall or ceiling, just let me know how much space you are trying to cover and I can help you determine how many sets to order. If you want embellishments on both sides of the medallion for hanging, let me know so I can make them to your liking. Convo me if you have any questions, or if you would like a private listing.
Want more matching glow party decoration? Click here to go to my glow party section to find matching garlands, centerpieces, cupcake toppers, and more:
https://www.etsy.com/shop/paperdotpartyspot/?section_id=22824647
See all of my shop items here:
https://www.etsy.com/shop/paperdotpartyspot/