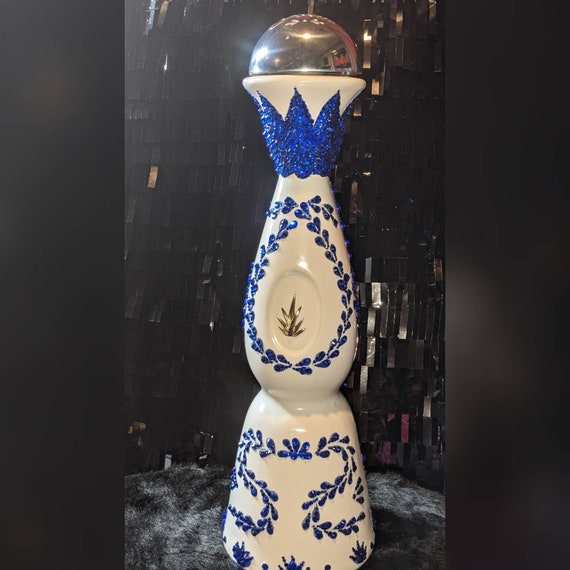 Product Info
Please read carefully. This listing is for One Glam Liquor Bottle (Clase Azul Theme)! Colors cannot be changed, nor can this item be personalized.
--------------------------------------------------------------------------------------
What's Included:
One Empty Glam Liquor Bottle
--------------------------------------------------------------------------------------
Information:
750ml capacity
Pull off lid
Designed for cold beverages
--------------------------------------------------------------------------------------
DEFECTS
******* This glam bottle has minor defects, which is reflected in the price. Please do not purchase if you are expecting a perfect item. *******
--------------------------------------------------------------------------------------
PLEASE NOTE
My embellished bottles do not contain beer, wine, and spirits. Federal Regulations prohibits me from selling spirits.
Your new design is embellished with rhinestone ribbon and glitter. It is handmade and is unique. It has imperfections, which should be expected. Bottle is not made to handled constantly. Embellishments are secured with adhesive, but can be removed with effort. Glitter is sealed, but there maybe be remnants of loose glitter. The bottle is for decor and display purposes. To prolong the life of your design you can take care of your bottle by:
Not submerging the bottle in water!
Not scrubbing the bottle while cleaning!
Not using the dishwasher to clean the bottle!
Not using hot water to clean the bottle!
Air or pat dry the bottle after cleaning!
Keep away from small children!
--------------------------------------------------------------------------------------
FAQ
Can I cancel my order?
Once the item is purchased the order cannot be cancelled and is now NON-refundable. Please read the items description page carefully.
Can I customize the bottle?
No, I only offer the bottle as it.
Can I return the bottle?
Bottle can not be returned.
--------------------------------------------------------------------------------------
PICTURE REMINDER!!
Please don't forget to follow me & tag your photos
#bottlesbyfeliciamichele
Facebook (FeliciasEventDesignandPlanning)
Instagram (Planningparties or Bottlesbyfeliciamichele)
--------------------------------------------------------------------------------------