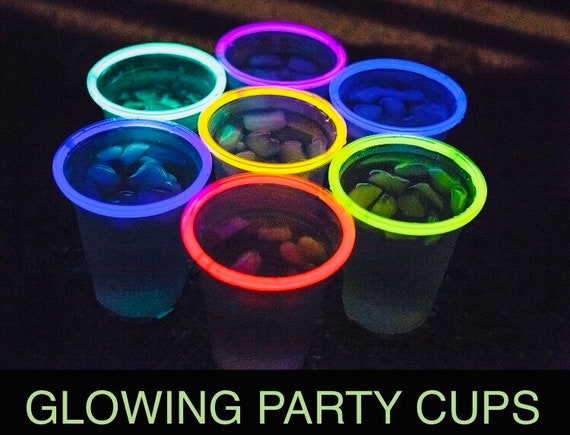 Gender Reveal Party Cups Gender Reveal Cups Gender Reveal Plates Boy or Girl Party Gender Party Pink Blue Gender
By Glo Pro
Product Info
Glowing Party Cups by www.GlowPartyCups.com
Assembled in the USA!
Glow parties are all the rage these days. Glow Sticks are cool, glow sticks inside the rim of a cup are even cooler! Our glow party cups combine a regular cup with a glow stick, for a great looking product that matches the rest of your glow party decor. Sure, it won't make your drink taste any better, but we're pretty sure it will make you look a whole lot cooler, and that's the main thing, right?
Two essential elements to any glow party are surely party cups and glow sticks, and in a stroke of inspiration we've combined the two to put the 'fun' in any function. Grabbing some glow in the dark party supplies will ensure that your event will be a success every time. We can't believe nobody has ever thought of this before!
Insert the glow stick into the specially formulated cup to light up the rim. With 7 colors and 20 cups in each package your cup will glow for 8-12 hours.
Glo Pro Cups are also extremely versatile. Soda, liquor, even wine; our cups don't judge you on your choice of beverage. Sip quietly in the corner or use them for an exciting game of beer pong. One thing's for sure - these cups help bring people together. So what are you waiting for? Have a look at our website, and once you're ready to stock up on your glow party supplies just order our Glo Pro Cups quickly and easily. Your party guests will thank you!
Check out our YouTube product video
https://youtu.be/H3uD5xA9Exs
Package Includes:
20 16oz Clear Glow Cups
20 Glow Cup Sticks (7-Colors)
Colors:Red, Blue, Green, Pink, Yellow, Purple,Orange.
Ships in retail package.
Cups have "Glo Pro" logo printed on them.
Thanks for looking!