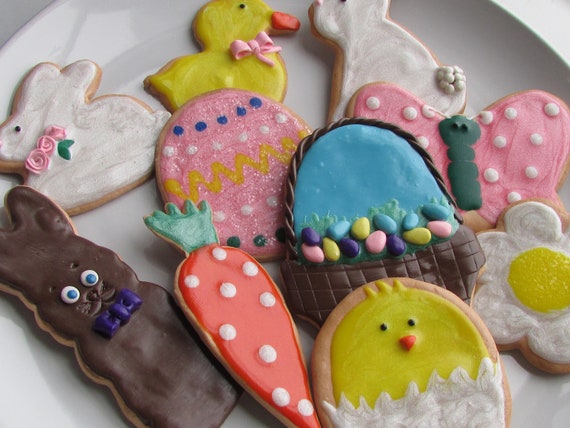 Fake Easter Cookies Faux Spring Theme Table Cookies for Home Display Decor Bakery Sugar Cookie Cut Outs Food Ornament Milk Bunny Eggs Basket
By Samantha's Sweets
Product Info
Fake Easter Cookies Faux Spring Theme Table Cookies for Home Display Decor Bakery Sugar Cookie Cut Outs Food Ornament Milk Bunny Eggs Basket
COOKIES ARE SOLD INDIVIDUALLY OR AS A SET IN THIS LISTING.
Decorate with bakery style! Easter will be extra sweet with these lovely faux sugar cookie cut outs! DECORATIVE PURPOSE ONLY! These adorable fake cookies are perfect for holiday decorating or can be ordered as tree ornaments! Cookies rolled and cut using vintage cookie cutters! :)
HOW TO ORDER ~ CHOOSE FROM MENU...
***You can get 1, 2, 3, etc. cookies OR get the whole set!
***You can order them as JUST COOKIES for display or made as ORNAMENTS (WITH RIBBON HANGERS)!
***You can order a set of 5, 6, 7, 8, 10, or 12
If ordering a SET...
***NAME THE COOKIES YOU WANT in PERSONALIZATION BOX. Mix & match as you like for your custom set. Copy & paste from list below...
***COOKIES (SETS 5 AND UP) will come in CUTE COOKIE BOX. *Perfect for gift giving!
***You may order more than one of a style of cookie if desired.
***Cookies VARY SLIGHTLY per listing, as they are hand sculpted.
***Ornaments will have pink/white twine unless otherwise specified.
MESSAGE ME QUESTION ANYTIME!!!
As a cookie / cake artist, I decorate with love, one cookie at a time. Custom designs welcome! MESSAGE ME! I can create a wonderful set of faux cookies that reflect your family favorites!
PLEASE READ: THESE COOKIES ARE MADE FROM NONEDIBLE CLAY! PLEASE KEEP AWAY FROM SMALL CHILDREN.
COOKIE MEASUREMENTS: Cookies are cut with real cookies cutters, so sized to scale. Size comparisons to quarter.
COOKIE LIST:
CHICK WITH BOW: 2 3/4 x 2 3/4 inches
CHICK IN EGG: 3 X 2 1/2 inches
EASTER BASKET: 4 X 3 inches
WHITE BUNNY: 2 1/2 x 4 inches
WHITE BUNNY W/ ROSES: 2 1/2 x 3 inches
CHOCOLATE BUNNY: 4 1/4 x 2 inches
EASTER EGG: 3 x 2 1/2 inches
POLKA DOT CARROT: 1 1/2 x 4 inches
BUTTERFLY: 2 3/4 x 3 1/2 inches
FLOWER: 2 1/2 x 2 1/2 inches
PLEASE READ:
THESE COOKIES ARE NOT TOYS.
MADE OF NONEDIBLE MATERIALS, KEEP AWAY FROM SMALL CHILDREN.
MADE FROM NONTOXIC POLYMER CLAY.
COOKIES VARY SLIGHTLY PER LISTING, AS THEY ARE HAND SCULPTED.
Remember... shipping is always FREE with orders over $35!
As a Cake Artist for the past 12 years, I know a lot about cakes and parties. Check out my websites for great party ideas and message me here on the Etsy, for questions any time! I'm always here to help.
www.samanthasweets.blogspot.com
www.partieswithcake.blogspot.com
Sweetly,
Samantha