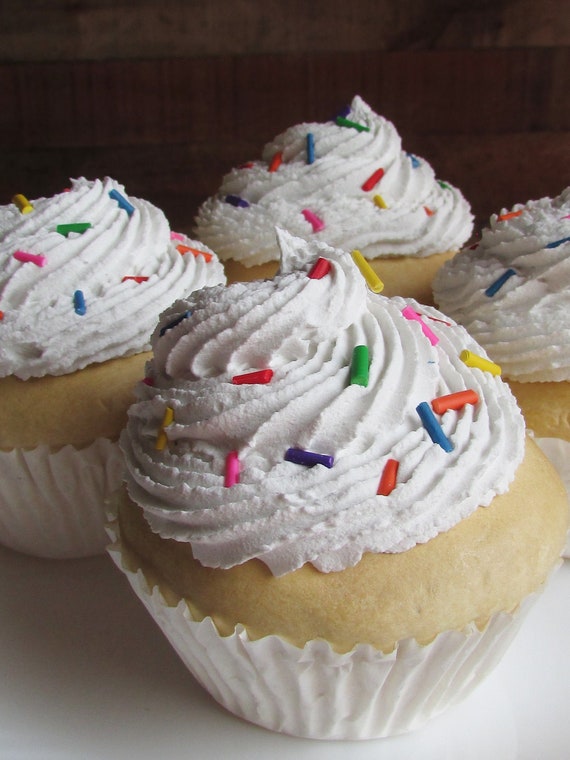 Fake Cupcakes For Display Faux Cupcake Fake Baked Goods Tiered Tray Decor Bakery Kitchen Sprinkled Vanilla Cupcake Food Props Staging Bake
By Samantha's Sweets
Product Info
Fake Cupcakes For Display Faux Cupcake Fake Baked Goods Tiered Tray Decor Bakery Kitchen Sprinkled Vanilla Cupcake Food Props Staging Bake
THIS LISTING STARTS AT 1 CUPCAKE AND UP. CHOOSE FROM DROP DOWN MENU FOR AMOUNT.
AT THIS TIME 0 CURRENTLY AVAILABLE READY TO SHIP ~ NEED MORE? PLEASE ALLOW 7 TO 9 DAYS. GO TO THIS LISTING: https://www.etsy.com/listing/776580022/fake-cupcakes-for-display-faux-cupcake?ref=shop_home_active_1
UPDATE: 0 CUPCAKES ready to ship IN STOCK (Making more currently.)
THESE CUPCAKES ARE FOR DISPLAY PURPOSES ONLY! PLEASE READ MORE INFORMATION BELOW PRIOR TO PURCHASE.
OTHER DECOR SHOWN IN PHOTO IS NOT AVAILABLE FOR PURCHASE. MY FAUX CUPCAKES ARE SUPER REALISTIC BUT DON'T BE TEMPTED TO TAKE A LICK ~ ALL NON-EDIBLE MATERIALS!
These faux cupcakes are so sweet and adorable! They make a wonderful cozy decoration for your home! Give them as a gift! They come wrapped so pretty ~ ready to give!
I just LOVE making fake food for home decor! I love it as much as real baking, and that's a lot!
Look for more faux sweets and treats coming soon!
CHECK OUT OUR YOUTUBE CHANNEL: Sam's Sweet Art, for great tutorials on real and fake baking!
Measurements: ACTUAL CUPCAKE SIZE
Approximately 3 inches high x 3 inches wide
Cupcake sizes vary as they are hand sculpted, and just like real frosted cupcakes, they will never be the exact same size of shape.
PLEASE READ:
THESE CUPCAKES ARE NOT TOYS.
MADE OF NON-EDIBLE MATERIALS, KEEP AWAY FROM SMALL CHILDREN.
MADE FROM NONTOXIC CLAY AND OTHER MATERIALS.
COOKIES VARY SLIGHTLY PER LISTING, AS THEY ARE HAND SCULPTED.
FREE SHIPPING WHEN YOU ORDER 4 OR MORE!
As a Cake Artist for the past 12 years, I know a lot about cakes and parties. Check out my websites for great party ideas and message me here on the Etsy, for questions any time! I'm always here to help.
www.samanthasweets.blogspot.com
www.partieswithcake.blogspot.com
Sweetly,
Samantha