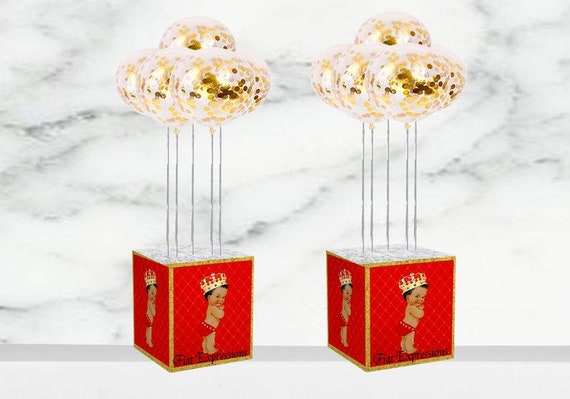 Product Info
Prince Red Gold Baby Shower Balloon Centerpiece
Our prince balloon centerpieces will elegantly decorate a prince baby shower. You may pair our balloon centerpieces with one of our prince diaper cakes or backdrops. You may purchase 1, 2, 3, 4, 5, 6, 7, or 8 balloon centerpieces. You may select the baby of your choice. This two set balloon centerpiece comes with the following:
-1 Decorated Prince Base
-5 Gold Confetti Latex Balloon – 12 inches
-1 Baby Prince of your choice
-Pictures are on all 4 sides
-Coordinating Crinkle Paper, Instructions, & Basic Assembly Required
The balloon centerpiece measurements are 24 (W) x 28 (H) inches. This product is created per order within 1-3 business days. Ships out via USPS First Class Mail. The buyer is responsible for inflated balloon with a balloon air pump. No Helium needed. Please keep in mind the balloons has a tendacy to slightly lean!