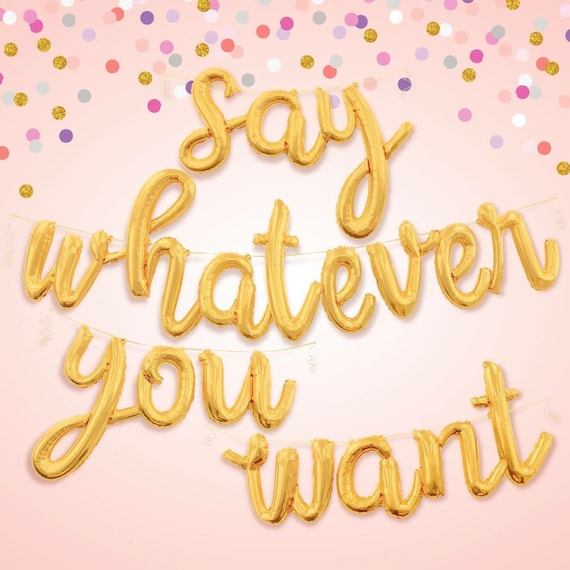 Custom Script Letter Balloons Gold or Silver Custom Phrase Balloons Birthday Baby Shower Bridal Custom Banner Letter Balloons Air Filled
By Chic Balloon Boutique
Product Info
Custom Script Letter Balloons are great way to personalization of any birthday, baby shower, bridal shower, graduation, bachelorette or anniversary party! Create your own Script Balloon Banner!
NOTE: If you are purchasing Large Quanities (Ex. 15 or more of one letter) of one single letter, please send message prior to placing order to confirm availibility. This listing is designed to accomodate custom word phrases.
• Individual letters range in sizes from 14" to 24" high depending on the letter, these balloons are LOWERCASE letters. No Capitol Letters. These letters range in size by letter height, you cannot choose the size of the letter you would like.
Example: a is a smaller letter in height, t is a taller letter, y is a longer letter.
These are Lowercase Cursive Letters only, NO Symbols or Numbers! If Numbers are selected they will be filled with Block Numbers.
• These are Air fill only (They will not float with helium)
• Each letter is an individual balloon is self sealing and reusable
•. Balloons are shipped deflated with a minimum of (1) straw for inflation. We do not provide twine or string.
HOW TO PLACE ORDER FOR LETTERS:
• Count the letters needed for your phrase and select the number from the drop down menu. (EX. First = 5 Letters; Happy Birthday = 13 Letters)
• Enter your Phrase in the "Personalization Box". Please be sure the number of letters you purchase matches the number of letters in the phrase that you type. Your order possibly will be delayed with number chosen doesn't match the numbers in the phrase.
• Colors Can Be mixed between Gold and Silver.
*IMPORTANT BALLOONS CAN BE A CHOKING HAZARD!!
Any questions feel free to contact us!!!
#chicballoonboutique #creativecompany