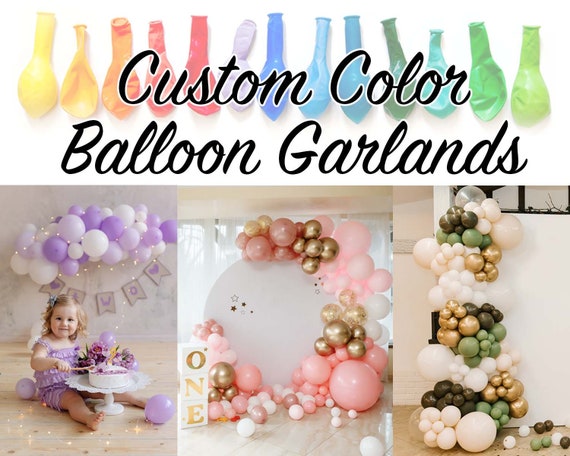 CUSTOM COLORS Balloon Garland DIY Kit Wedding Engagement Baby Bridal Shower Anniversary Party Arch Backdrop Doorway Pastel Chrome Retro Boho
By Posh and Sparkle
Product Info
Elevate your event with a glamorous custom balloon setup. Plan a party to remember, this listing is for a fully customizable balloon bundle, you can choose any colored classic balloon, add some chrome balloons, and even choose the desired accent color. The balloon bundle is sold as a DIY KIT. Comes with the necessary basic tools to build your own balloon decoration, arch, garland, or even decorate with them individually.
Balloons are the perfect party decoration, no matter the size, style, and type of event. So put together the custom garland that will match your boho, retro, modern, elegant, or fun party style and build an arch, garland, or backdrop, decorate the entryway, or simply give your party a great atmosphere. The custom balloon garland is suitable for wedding, engagement, anniversary, birthday, baby, bridal shower, and many other different events.
ABOUT
HOW TO ORDER:
-----------------------
- Select the length of the garland from the drop-down menu
- Optional: add-on confetti balloons
- Refer to images #6 - 10 of the listing for available balloon colors
- Write your color choices in the "Personalization" box of the listing:
· Pick as many regular colors as you'd like
· Pick 1 chrome color
- Include any specific instructions (ex. heavy on a specific color; specify an accent color; etc.)
**If you list just the colors, we will send you an even amount of the standard colors chosen per availability
EXAMPLE PERSONALIZATION:
Colors: Pink, Pearl Pink, White
Accent Color: Rose
Chrome Color: Silver 2
** Reminder: Leaving off your color choices, or choosing colors marked as "Sold Out" will delay the shipment of your order
- - - - - - - - - - - - - - - - - - - - - - - - - -
EACH KIT INCLUDES:
-----------------------------
- Balloon decorating strip (in your choice of length: 4ft/ 5ft/ 6ft/ 8ft/ 9ft/ 10ft/ 12ft/ 14ft/ 16ft)
- Assorted mix of latex balloons in a variety of sizes between 5 to 16 inches
(*Balloon sizes in your kit will vary based on your chosen colors and garland size - *Please see balloon sizing details below)
- Chrome balloons in size 11" (includes 1pc per foot of garland - ex. 6ft garland = 6 chrome balloons)
- 100pc roll of glue dots
- Balloon hand pump
- Balloon knot-tying tool
- Clear string
- Step-by-step instructions
BALLOON SIZING:
- Balloon size availability varies based on the color, sizes vary based on the brand of balloon and color
- Please see the provided color chart photos to see what colors are available in each balloon size.
Qualatex Balloons sizing includes 5", 11", & 16"
Strong Balloons sizing includes 5" & 12"
Eco Balloons sizing includes 12"
- You will receive a mixture of all the balloon sizes that are available for your chosen colors.
(*Note: 16" balloons are included only in garland kits 8ft - 16ft. If 16" balloons are not available in any of your color choices, we will add additional balloons of other sizes instead.)
- - - - - - - - - - - - - - - - - - - -
NEED HELP CHOOSING COLORS?
If you need assistance with your color choices or have a special request, please send us a convo BEFORE placing an order.
LOOKING FOR UPGRADES? - Add specialty balloons for a stylish display!
Want to take your garland to the next level? - Consider adding on some confetti balloons, foil shape balloons, or giant 36" balloons!
Click here to visit the balloon section: https://www.etsy.com/shop/PoshAndSparkle?section_id=27826349
DETAILS & TIPS:
-----------------------------
- Our latex balloons are made from 100% natural latex, making them biodegradable!
- Depending on the size and design, balloon garlands typically take about 60-120 minutes to create, and do not require previous experience.
- Balloons will come deflated and are filled with air using a balloon pump. (No helium required!)
- Long lasting - Set up your balloon arch one to two days before your event.
- Reminder: exposure to extreme temperatures, wind, and sunlight may affect the appearance and performance of your balloons.
- Removable, damage-free Command hooks work great to hang your arch (hooks are not included, find them online/local stores)
TAG US ON INSTAGRAM -> We 💗 to see and share our amazing customers enjoying our party supply products!
If you have any questions, please use the "Message Seller" button next to the price and we'll get right back to you!
GET 10% OFF ON YOUR 1ST ORDER! - Sign up for our email newsletter and get an instant Etsy coupon code for 10% off on your first order. Sign up here: http://eepurl.com/gTa1e9
Visit my shop for the best party supplies
https://www.etsy.com/shop/PoshAndSparkle