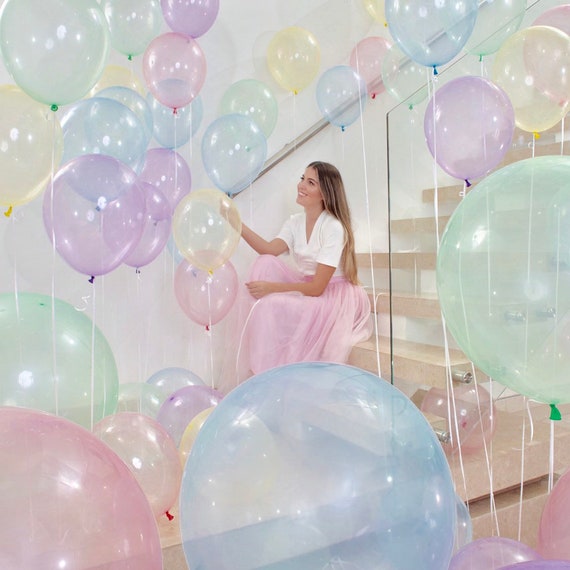 Crystal Pastel Balloons, 5 11 24 inch Crystal Latex Balloons, Baby Shower Balloon, Pastel Balloons, Pastel Rainbow, Pastel Latex Balloons
By Chic Balloon Boutique
Product Info
These Crystal Pastel Latex Balloons are available in the 3 sizes, 5" 11" and 24", they are the lightest shade pastel great for as Baby Shower Balloons, Bridal Shower Decor, Weddings, or any Birthday Party!
This Listing is for: selected size Balloons
Crystal Pastel Pink
Crystal Pastel Blue
Crystal Pastel Green
Crystal Pastel Purple
Crystal Pastel Yellow
11 inch Balloons are shown in Listing picture
Pack Size and color choice is available. Mixed color will include all colors listed evenly, on desired pack size. Ex: 25 pack, 5 of each color.
**
These balloons appear darker when uninflated but when inflated to full size translucent pastel color will appear.
*IMPORTANT BALLOONS CAN BE A CHOKING HAZARD!!
*Keep in a cool place for the best quality of the balloon, extreme heat or other weather conditions will affect this product.

*This balloon can be inflated with helium or air. (Excluding 5 inch these are only air filled they do not float with helium. (When inflated with air the balloon will not float.)
*DO NOT over inflate balloon or it will pop.
*This balloon doesn't include string.
*The balloon is being sent flat and deflated.
*You can take balloon to your local party store or super market to have filled for a small cost.