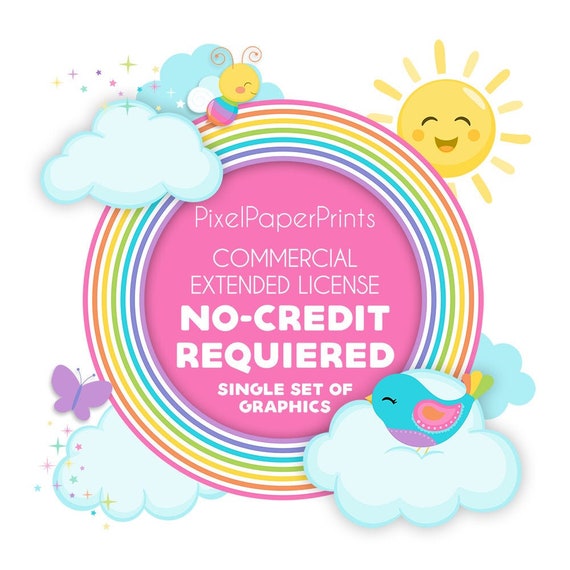 Product Info
EXTENDED LICENSE: COMMERCIAL USE LICENSE WITH NO CREDIT REQUIRED
As is mentioned in my product's descriptions, commercial license is included with each item when you purchase them, however, one of the conditions to sell items with my graphics as part of your design is to give my shop credit for such graphics in your item's page.
If you are interested in purchasing my graphics for commercial purposes and you don't want to credit my shop, you need to buy this license. In this way you don't need to mention my shop's name and you just need to keep your invoice number of the purchased license in case it needs to be verified.
This license can also be purchased if you already bought my graphics and you want to start using them for your projects to sell without giving credit to my shop.
This extended license does not include the graphics, so you need to purchase the images separately.
IF YOU ARE INTERESTED IN PURCHASING THIS LICENSE FOR THREE OR MORE PRODUCTS, PLEASE CONTACT ME SO I CAN GIVE YOU A SPECIAL PRICE.
This is how it works:
-One license needs to be purchased for each set you want to use without giving credit to my shop.
-Please select the quantity needed for each set you wish to use commercially without giving credit (for example 2 sets require quantity x2).
-At checkout please enter the name of the set or sets you are adding an extended license option to in the "note to seller" section.
-Once you place your order, an invoice number is created, please keep it in your records for future verification. You can check you invoice numbers at any moment by signing into your Etsy account and going to: YOUR ACCOUNT>PURCHASES AND REVIEWS
-Within 24 hours, I will send a confirmation message to your email.


This item does not participate in the sale "buy 3 get 1 free", however, as is mentioned above, you can get a discount if you purchase three or more licenses.


All the licenses are non-exclusive and non-transferable. Please view shop policies or contact me for more information.
The purchase of this license does not transfer copyright. All copyrights remain with Pixel Paper Prints.
------------------------------------------


By purchasing a product from Pixel Paper Prints you agree to follow the Terms of Use specified in the description of the purchased item and in the policies section: https://www.etsy.com/shop/pixelpaperprints/policy?ref=shopinfo_policies_leftnav
Pixel Paper Prints artwork cannot be shared or sold as they are (See definition of "as they are" in policies section) under any circumstances.
The same terms and conditions are applied to the items you receive as gifts from me/my shop and/or freebies that you receive as part of a special sale (example: "buy 3 get 1 free")
All the sample images and designs that are used in this Etsy shop including: Shop banner, avatar and images used to show and describe each product and product content and sizes, are not sold and have never been sold. They cannot be used without Pixel Paper Prints express written authorization and the right to use them is not included when you purchase this product.
DMCA, International and U.S. Copyright laws and conditions related to them must be always obeyed even if you don't make a purchase in this shop.
All copyrights remain with Pixel Paper Prints.
All rights reserved to PixelPaperPrints © 2011-2013