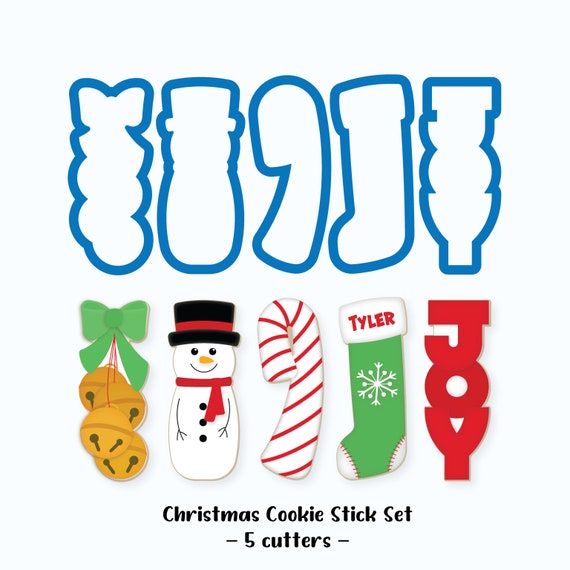 Christmas Cookie Cutters | Christmas Cookie Stick Cutter Set | Jingle Bells, Snowman, Candy Cane, Stocking, JOY
By Frosted Cookie Cutters
Product Info
The 3D printed Christmas Cookie Stick cookie cutter set has been crafted for durability and quality. All cutters designed, engineered and tested by a fellow cookie enthusiast.
Collection:
Christmas Cookie Cutters
Winter Cookie Cutters
Set includes 5 Christmas cookie stick cutters: Jingle Bells, Snowman, Candy Cane, Stocking, Vertical JOY
Sizes:
All of our cutters are now available in 4 sizes:
Mini Cookie Cutters - 1.5 inches
Small Cookie Cutters - 2.5 inches
Standard Cookie Cutters - 3.5 inches
Large Cookie Cutters - 4 to 4.5 inches
All sizes are approximate as some will vary slightly depending on
the shape. Please message me if you have questions on
precise dimensions.
Custom cookie cutter sizes available on request.
Function
All cookie cutters designed with fine edge for precise cuts.
Use as a cookie cutter, fondant cutter or gum paste cutter.
Color
All cookie cutters are Frosted "vivid blue" unless otherwise noted.
Materials
Printed on a 3D Printer using biodegradable PLA filament.
What is PLA?
PLA, or polylactide is made from corn starch or sugar and it is biodegradable. It is the most environmentally friendly material available for this type of 3D printing. Facilities all around the country accommodate PLA as recyclable and compostable material.
No heavy metals. Made exclusively in the USA.
Hand wash only! Not dishwasher safe.
Shipping
USPS