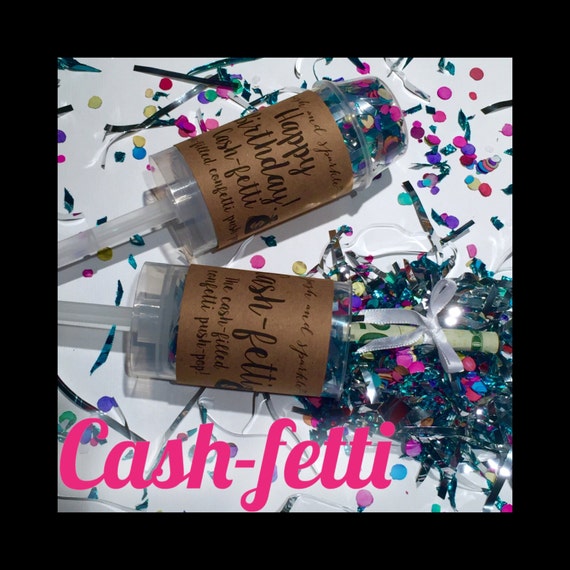 Money Confetti Poppers, Money Gift Ideas, Money Party Popper, Money Party Decorations, Party Poppers with Money Confetti, Poppers with Cash
By Posh and Sparkle
Product Info
Cash-fetti are the confetti push-pops that are filled with cash!! Based on the option you choose, we will insert a $5, $10, or $20 US currency bill inside the popper, along with the confetti. They are a really fun and very generous way to celebrate any birthday, graduation or special occasion! To use, simply take off hit the the stick upwards with the palm of your hand for a wonderful, harmless explosion of confetti (and money!).
ABOUT THE CONFETTI:
🎉Confetti mix features turquoise metallic foil pieces, silver metallic streams, and multicolored dots.
🎉Hidden inside the confetti is a $5, $10, or $20 bill tied with a bow!
(If you'd like a different amount please contact us for a custom order - however due to Etsy fees we suggest larger cash amounts use a DIY kit)
OR
No Cash - DIY KITS - Fill the Popper $$ Yourself!
- Don't want us to provide the cash? - Get a DIY KIT; which provides everything you need to assemble the popper, just add your own cash!
The DIY Kit Includes:
- 1pc or 5pc Confetti push-pop container with your choice of label style
- Bag of confetti
- Ribbon(s) to tie your own cash roll
🎉Ribbon color may vary based on availability. If you desire a specific color, please request in note to seller.
🎉 Standard Label Reads: "Cash-fetti. The cash-filled confetti push-pop!"
🎉 Happy Birthday Label Reads: "Happy Birthday! Cash-fetti. The cash-filled confetti push-pop!"
🎉Optional Shipping Upgrade - Signature on Delivery:
- For poppers containing cash/currency, you may choose to add an a signature on delivery requirement to the shipment, if you would like added peace of mind on your delivery.
- This upgrade is not shipping insurance, it is only a requirement that the carrier gets a direct signature from the recipient versus leaving the parcel outside/in a mailbox, etc.
🎉 IMPORTANT CASH-FILLED POPPER DETAILS:
- Physical money/cash/currency is NOT covered by any USPS shipping insurance, nor do we accept claims on missing/undelivered parcels for this item.
- By purchasing, you are agreeing to our terms in that you understand Posh and Sparkle is not responsible for; and will not reimburse, refund, or replace lost/missing/theft parcel claims for poppers containing currency/cash, regardless of adding a signature on delivery. NO EXCEPTIONS.
- All cash-filled popper production is recorded by video from start to finish, including packaging, and labeling, with added tamper resistant labels, to protect both parties from false claims. However once the parcel is in possession of the shipping carrier, we cannot be held responsible for delivery issues.
Therefore, we suggest only mailing to a safe location, where someone will be home to receive the parcel.
- You may choose to add an a signature on delivery requirement to the shipment if you would like added peace of mind on your delivery.
- Cash/Money-Filled poppers are FINAL-SALE - Due to the nature of the product containing actual cash/money, they are NOT eligible for exchange or returns. No exceptions.
** THIS ITEM IS NOT AVAILABLE FOR ANY PROMOTION/DISCOUNT ** This is due to the fact that this popper contains actual money. Please do not add any additional promotion code at checkout or we will have to cancel the order. Thank you for your understanding.
🎉 How do I use a confetti push-pop?
Confetti Push-Pop Instructions:
1. Remove plastic shrink wrap before use.
2. To fully maximize the "pop" of your confetti, hit the stick upwards using the palm of your hand; similar to "serving a
volleyball."
(*Remember, these are manual push-pops, they are not compressed air/spring loaded - the more force used, pop you get.)
3. Have Fun!!
4. Don't forget! All our confetti push-pop containers are reusable, and food safe! So save them and re-fill, or use them for fun party foods such as dessert parfaits!
🎉 CUSTOM LABELS:
If you would like to have different text or design on the label, you can add-on a "custom label design" to any order here:
https://www.etsy.com/listing/474991088/
🎉 CUSTOM ORDERS:
For custom theme/color confetti, please contact us using the "Request a Custom Order" link above and we'll be happy to make the perfect push-pop for your event!
🎉 RUSH ORDERS:
If you need a rush order, please contact us PRIOR to purchasing so we may confirm availability and any additional charges.
TAG US ON INSTAGRAM
We 💗 to see and share our amazing customers enjoying our confetti!
QUESTIONS?
If you have any questions regarding this confetti push-pop, please use the "Ask a Question" button next to the price and we'll get right back to you!
Thanks for shopping at Posh and Sparkle!