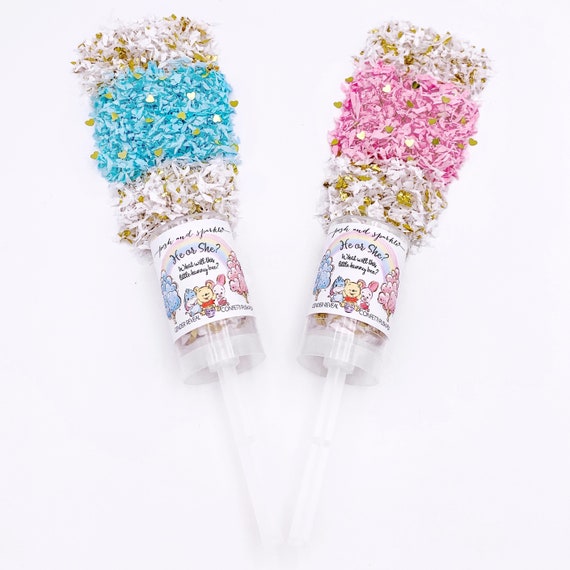 He or She Gender Reveal Confetti Poppers, Winnie the Pooh Gender Reveal Push Pops, Winnie the Pooh Confetti Push Pops Gender Reveal Party
By Posh and Sparkle
Product Info
Our "He or She, What Will This Little Hunny Bee?" Gender Reveal Confetti Poppers are a fun way for everyone at your reveal party to find out the gender at the same time! Hand one out to your guests, take off the lid, count down from 5, push the stick up with the palm of your hand and yell "Our hunny bee is a.…" for a harmless burst of either blue or pink confetti!
ABOUT THE CONFETTI:
🎉Available as 1 Push-Pop/ Set of 5 / Set of 10
🎉Each end is filled with white confetti shred with gold metallic foil pieces and hidden inside is either: FOR A GIRL: light pink confetti shred and gold metallic foil hearts; FOR A BOY: light blue confetti shred and gold metallic foil hearts.
🎉The push-pop's label covers the gender-themed colored confetti so that the gender is not visible until the push-pop has been popped!
🎉Label features Winnie the Pooh theme characters and reads, "He or She? What will this little hunny bee?"
🎉 How do I use a confetti push-pop?
Confetti Push-Pop Instructions:
1. Remove plastic shrink wrap before use.
2. To fully maximize the "pop" of your confetti, hit the stick upwards using the palm of your hand; similar to "serving a
volleyball."
(*Remember, these are manual push-pops, they are not compressed air/spring loaded - the more force used, pop you get.)
3. Have Fun!!
4. Don't forget! All our confetti push-pop containers are reusable, and food safe! So save them and re-fill, or use them for fun party foods such as dessert parfaits!
🎉 CUSTOM LABELS:
If you would like to have different text or design on the label, you can add-on a "custom label design" to any order here:
https://www.etsy.com/listing/474991088/
🎉 CUSTOM ORDERS:
For custom theme/color confetti, please contact us using the "Request a Custom Order" link above and we'll be happy to make the perfect push-pop for your event!
🎉 RUSH ORDERS:
If you need a rush order, please contact us PRIOR to purchasing so we may confirm availability and any additional charges.
TAG US ON INSTAGRAM
We 💗 to see and share our amazing customers enjoying our confetti!
QUESTIONS?
If you have any questions regarding this confetti push-pop, please use the "Ask a Question" button next to the price and we'll get right back to you!
Thanks for shopping at Posh and Sparkle!®