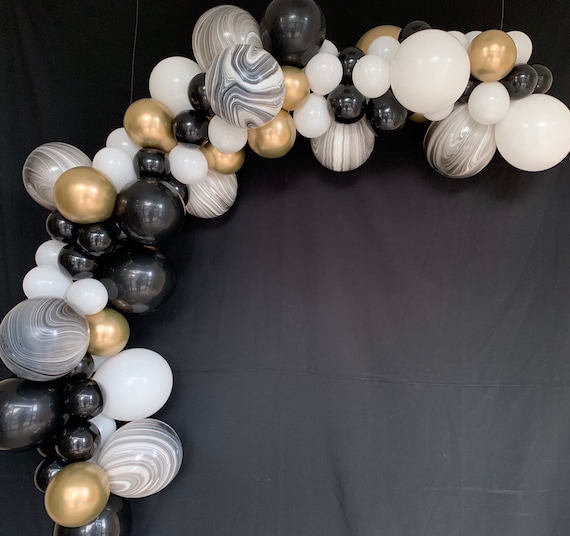 Balloon Garland Kit - Black and Gold Balloon Garland - Graduation Balloon Garland - Marble Balloons - Black and Gold Decorations
By Chic Balloon Boutique
Product Info
DIY Balloon Garlands are Trending, these beautiful Black, White, Marble, & Chrome Gold Balloon Garlands create a beautiful impact with a balloon arch! Hello 30 to Hello 60 Party Decorations, This chic Black and Gold Balloon Garland will Impress! Also as a New Years Eve Balloons Garland as well!
This DIY Latex Balloon Garland Kit Includes:
A Mix if 11" (Black, White, Marble, Gold)
A Mix of 5" (Black, White, Gold)
Balloon Garland Strip in desired size
(1) Handheld Balloon Pump (option without hand pump)
Strip of Sticky Glue Tabs
(DIY Directions are also included with this purchase)
Each Kit includes calculated amount for size of ordered Garland.
This Balloons Garland can be inflated 2-4 days in advance, will take approximately 2-3 Hours from start to finish!!
**Note: Looking for Custom colors no problem, while we prepare to add more listings with a variety of color combos, message us for Custom Garlands available Immediately!! Just Message with color selection or List in notes on order!**
Elevate you Garland with Cursive Script Lettering with this link:
*IMPORTANT BALLOONS CAN BE A CHOKING HAZARD!!
*Keep in a cool place for the best quality of the balloon, extreme heat or other weather conditions will affect this product.

*This balloon can be inflated with helium or air. (When inflated with air the balloon will not float.)
*DO NOT over inflate balloon or it will pop.
*The Balloons are being sent flat and deflated.
*Any photos shown on shop listings were created by our professional team.
We can create custom orders within our shop, look forward to new and creative arrangements coming soon!!! IN THE BALLOON SHOP THE OPTIONS ARE ENDLESS!!!
Any questions feel free to contact us!!!
#chicballoonboutique #creativecompany #makingmemories