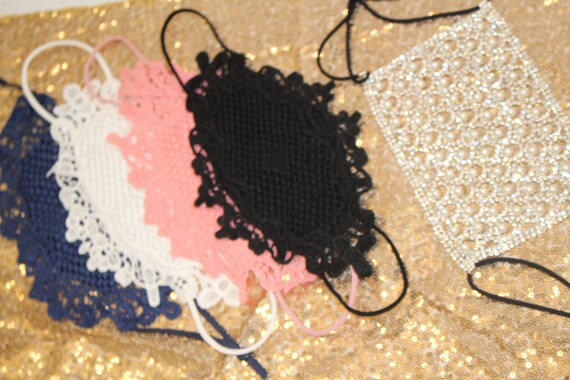 Product Info
Looking for matching masks for a night out on the town for a Bachelorette party/bridal celebration? Let me help! Order this set, which includes one adjustable pearl & crystal bridal mask overlay and four lacy masks for the party (pink, black, navy, white).
Ok, so where did Your Party Box come from?
Well, last year, I was asked by a girlfriend to plan a bachelorette party (whoop whoop!).  I started looking for decorations - everywhere from Party City to Target to naughty stores to the dollar store.  I couldn't find anything in one spot that I REALLY liked and ended up going to multiple places and spending more that what I would have liked to spend.  (Totally worth it, though - what a great night!) But, I started thinking...what if everything I needed could just be shipped to my door, cute and easy to set up...and I haven't been able to stop thinking about it since! 
I quit my nursing job to try to explore both my business and creative side AND moved our family of 5 to a more rural area by the river to make my dreams a reality! (AT THE SAME TIME - WHAT WAS I THINKING!?!?)
So, I hope you will explore all we have to offer!  If you have a special event coming up, I hope you will find something you love!!  It is my goal that your perfect party decor be found through Your Party Box, and that we can help eliminate some of your party planning stressors!
<3 Patti
** Currently, only shipping with the US **
** Please allow 3-5 days processing time before shipping **
** Please note, the bridal mask is an OVERLAY. It is recommended that a light filtered mask be worn beneath the overlay. It is also recommended that a light filter be used with the bridal party masks. **