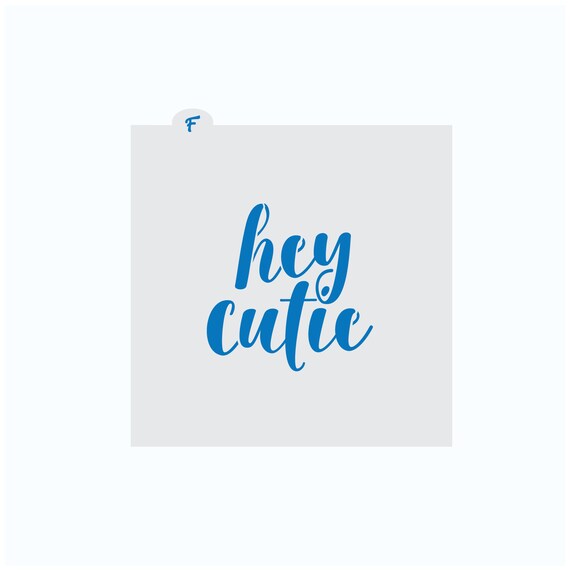 Baby Shower Cookie Stencil | Hey Cutie Cookie Stencil | Baby Shower Craft Stencil | Craft Stencil
By Frosted Cookie Cutters
Product Info
This Hey Cutie cookie stencil has been crafted for durability and quality. All stencils designed, engineered and tested by a fellow cookie enthusiast.
Shop home: frostedco.etsy.com
Collection:
Stencils
Baby Shower Cookie Cutter
Orange Cookie Cutter
Baby Shower Cookie Stencil
Stencil:
Stencil is designed to fit the standard size (3.5 inch) cookie cutter -OR- the large size (4.25 inch) cookie cutter.
Stencil can be purchased separately or together with the cutter.
Hey Cutie Plaque cookie cutter listing --> https://www.etsy.com/listing/1062704755
This stencil is also available as part of a 3-piece Set:
1 Orange with Leaves Cutter + 1 Hey Cutie Plaque Cutter + 1 matching Hey Cutie Stencil (3-piece set only available in the standard 3.5" size -or- large 4.25" size)
Link to listing for the set here --> https://www.etsy.com/listing/1062708635
Function:
Use on cookies and cakes with airbrush, royal icing or buttercream.
Materials:
Stencil is made from food safe 5 mil frosted stencil film.
Stencil measures 5.5" x 5.5" and fits common cookie stencil holders.
Made exclusively in the USA.
Hand wash only with warm soapy water. Wash before first use. Lay flat to dry.
Shipping
USPS
Worldwide shipping available