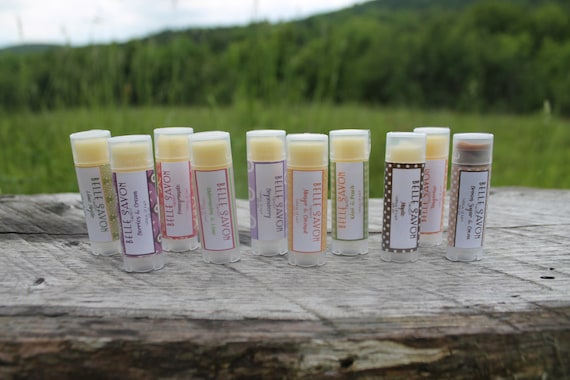 All Natural Lip Balm-Favors-Gifts-Maple,Boysenberry, Chai, Pumpkin,Pomegranate-Belle Savon Vermont
By Belle Savon Vermont
Product Info
All natural lip balm! Smooth and luscious--All my flavors are 100% natural-nothing artificial.
Wonderful oils and butters are combined to aid you in protecting your lips from everything including combating the winter winds and dry air to summer sun and outside play! Everything is handcrafted from top quality ingredients by scratch in small micro batches- no pre made bases!
Ingredients: Unbleached Beeswax, Sweet Almond Oil, Unrefined Cocoa Butter, Organic Babassu Oil, Organic Soy Oil, Jojoba Oil, Oil, Vitamin E, Stevia & All Natural Flavorings/Essential Oils
Choose From:
Maple
Black Raspberry Vanilla
Tangerine
Berries & Creme
Pomegranate
Mango & Coconut
Kiwi & Peach
Watermelon & Lime
Lime Coconut
Brown Sugar & Cocoa
Pink Lemonade
Black Current Tea
Pumpkin Cheesecake
Orchard Harvest(Apple, Plum and Apricot)
Boysenberry
Sweet Pumpkin Spice
Blueberry Cheesecake
Sangria Punch
French Vanilla Mint
Maple Chai Tea
Lime Mojito
Cotton Candy
Whoopie Pie
Cruelty Free Phthalate Free Petroleum Free
No Artificial Flavors or Colors
Pure as Nature!
Each tube contains .15 oz (4.25g)
Tubes can be recycled in the Preserve #5 Bin
Comes packaged in a biodegradable cello bag with ribbon tie-ready for gift giving or a gift for you :)
Label can be customized for wedding favors, showers, parties and gifts in quantities of 20 or greater.
3.00 each or 2.90 for 20 or more!
I am obessively passionate about making the best products that I can! I use only the highest quality ingredients and choose suppliers who care about what they sell. Everything I sell will arrive in recycled or recyclable packing. Please reuse, recycle and repurpose the shipping and wrapping materials.
As with any product, in the rare case that irritation occurs, please discontinue use.
THANK YOU!