Our baby girl turned 2! For her theme this year, I decided to go with a classic movie "The Wizard of Oz." I made all the decorations on my own with help from some girl friends and Etsy.com where I bought the printables. I work full time, sometimes more than 40 hours per week, but I got a head start and started planning since Oct./2011! It was a great party! lots of food, desserts, and candy! We had a face painter/balloon maker, we had some games, a pinata, a bounce house for big kids and a ball pit for the little munchkins. Overall, everyone had a blast! I could not have done it without my husband who supported all the arts and crafts I had to make, and my girlfriends & sisters who helped me do the finishing touches and helped me set up the day of the party.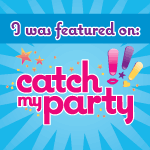 Best Dressed

Our little Dorothy of course in her tutu I made :)

Desserts

delicious homemade cake from my sister in law, cake pops made by my comadre, cupcakes made by me, ding-dongs, lollipops, tin man kisses

Activities / Games

Pin the Badge on the Lion, guess how many tin man hearts are in the jar, Pinata

Budget

Let's just say I started planning since Oct 2011 and I got most of the items on sale/clearance!

Party Favors

gingham boxes filled with: tin-man bubbles, scarecrow rubber duckies, Wizard of Oz stickers, Glenda wands (for girls)

Best Moment

When Leilani's eyes lit up when everyone was singing "Happy Birthday!"

What People Ate

Spaghetti, mini-hot dogs, pizza, chicken salad

What People Drank

water, soda, beer

Crafty Mommy!

Yes I work full time (sometimes more than 40 hours per week) but I managed to make mostly all of the decorations for her party! I am so proud of myself for pulling it off and I loved every detail!!!!
Lilliana Espinoza

Cake designer

Vens Paperie

Printables