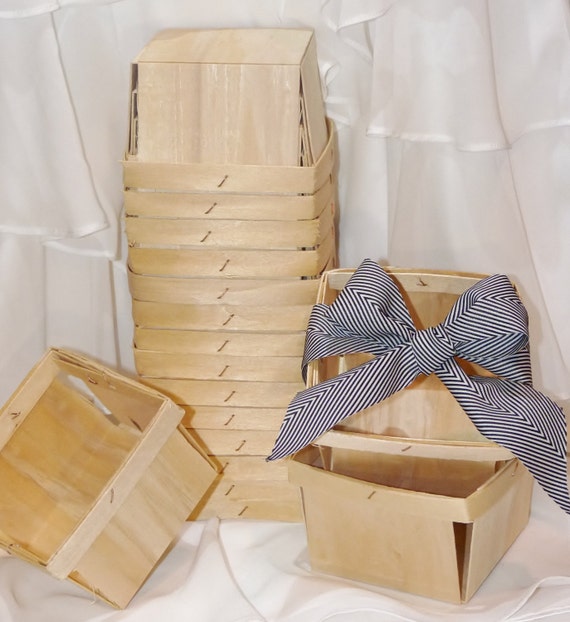 Product Info
~~ 12 WOODen Baskets / FarMerS marKet Berry Crates / Baskets
Oh My_ How FUN and FaNcY are these!!!
Snack Sized Perfection:) Appitizers, OuTdooR EveNts, BallGame POPcoRn!!!
What a Perfect way to deliver your "infamous" HomeMade PoundCake and Fresh Strawberries as a Party Favor or Neighbor Gift!.
Fill them with Fresh Peaches, Grapes & Plums .. scatter them around your table and watch your Guest 'Hand Pick' their choice! great way to 'simplify' Appitizers :)
Great at a buffet filled with Sliced HoMeMADE PIE!...
.................Shelled Peanuts,..........CANDY, ..........PopCorn and Chips...
...
..such a 'Old School, Vintage' idea that will be sure to get conversations started of days past...!!!
The WOOD Berry BASKETS / Crates are 4" in width by 2&1/2" tall
*****************OTHER ITEMS Pictured are NOT Included with this Listing*****************************
SEE LINKs BELOW:)
http://www.etsy.com/listing/118910957/cork-bottles-12oz-adult-sized-clear
http://www.etsy.com/listing/119920216/chevron-ribbon-in-black-stripe-pretty
Thank You for visiting
LOLA Loves A Party____ Making 'simple'..."Simply Fabulous" !!!
EveryDay is a GIFT....Enjoy & have a Beautiful Celebration, Happy me:) LOLA.